India, Malaysia sign trade pact to boost economic ties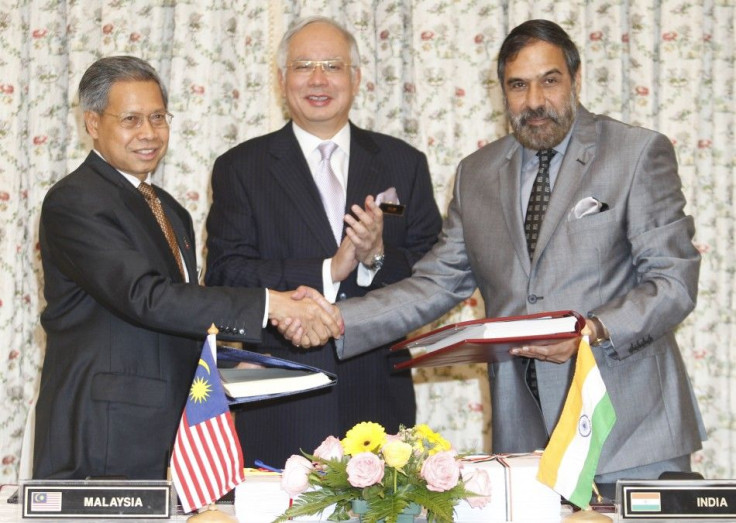 Malaysia and India, two of emerging Asia's robust economies, signed a Comprehensive Economic Cooperation Agreement (CECA) on Friday, aiming to boost bilateral trade to the tune of $15 billion by 2015.
The deal, Malaysia and India Comprehensive Economic Cooperation Agreement, was signed in Putrajaya by Malaysia's International Trade and Industry Minister Datuk Seri Mustapa Mohamed and India's Minister of Commerce Anand Sharma.
Trade ties between India and Malaysia have always been strong. India is Malaysia's largest trading partner within the Association of South East Asian Nations (ASEAN) while Malaysia is India's second largest trading partner in the grouping.
The new agreement solidifies the sound footing in bilateral trade. Malaysian authorities said the inking of the CECA will take forward progressive tariff reduction and trade liberalization. This will boost trade, investment and economic growth, Mustapa said.
The current relationship between India and Malaysia has been growing but it is not enough and it is quite narrow... We have not been happy with that given the historical link between the two countries. So, CECA hopefully will result in deeper engagement in trade and investment, including services, he said.
Trade between the two countries increased 16.4 percent last year to hit $9 billion. The value of bilateral trade is projected to cross $10 billion this year. The new agreement will be effective on July 1 this year.
Meanwhile, Sharma told Reuters in Kuala Lumpur that India is actively considering foreign equity participation in the country's $450-billion retail sector. We are very seriously engaged, Sharma said, adding the matter is in advanced stage of discussion.
© Copyright IBTimes 2023. All rights reserved.