India To Post Slowest Growth In A Decade As Industrial Output, Exports Decline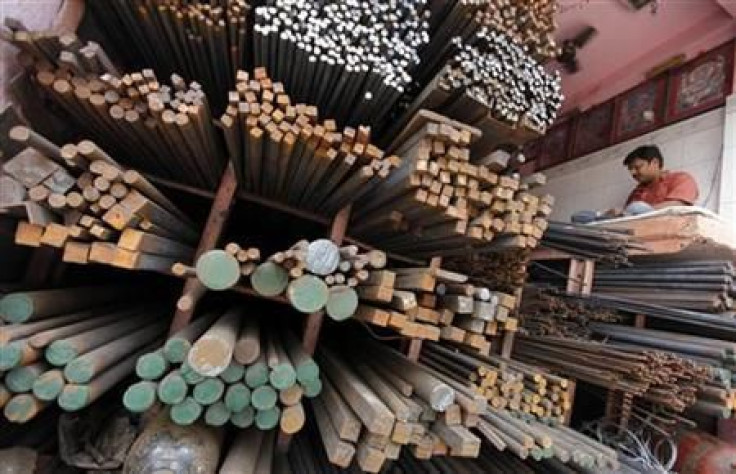 A surprise contraction in industrial production and a further fall in exports suggest that the Indian economy is on track to record its weakest growth in a decade, adding to pressure for action by the government and bolstering calls for an interest rate cut by the country's central bank.
Output at factories, mines and utilities shrank at an annual 0.4 percent in September, the Central Statistics Office said Monday. That came as a complete surprise to economists who had forecast a rise of 2.8 percent in a Reuters poll.
Manufacturing output, which accounts for the bulk of industrial production and contributes about 15 percent to overall GDP, declined 1.5 percent in September from the year-ago period. Production of consumer goods dropped 0.3 percent in September from a year earlier. Capital goods, a proxy for capital investment in the economy, contracted 12.2 percent.
Output reading for August was also revised down to show a 2.3 percent expansion, compared with an initial reading of a 2.7 percent expansion.
However, the final figure for September is consistent with India's very weak industrial performance during the year as a whole. Factory output has shrunk in five of the seven months through September.
Trade data, also published Monday, showed India's trade deficit widened to a record $21 billion in October.
Exports fell 1.6 percent to $23.2 billion last month, dragged down by slack demand from India's major export destinations in the U.S. and Europe. Meanwhile, India's imports jumped 7.37 percent to $44.2 billion, as the country's heavy reliance on imports to meet its oil needs pushed up overall imports.
Asia's third largest economy's poor export performance contrasts with tentative signs of a pick-up in many other emerging economies and clear signs of an upturn in China, where exports rose by double-digit levels in October, writes Andrew Kenningham, a London-based senior global economist at Capital Economics. India's underperformance suggests that its competitiveness is declining.
The International Monetary Fund last month slashed its 2012 economic growth forecast for India to 4.9 percent from 6.1 percent previously. That would be the slowest growth in a decade.
Following several policy flip-flops that have deterred foreign investors, Prime Minister Manmohan Singh's administration began a policy overhaul on Sept. 13. It raised fuel prices to reduce its subsidy burden and eased restrictions on foreign investment in important sectors such as retail and aviation to attract overseas capital.
New Delhi was forced to tackle diesel prices after Standard & Poor's and Fitch warned that the burgeoning fiscal deficit could put India's investment-grade credit rating at risk.
The government plans to bring the deficit down to 5.3 percent of GDP this year, and to 3 percent by between 2016 and 2017. The fiscal deficit was 5.8 percent of GDP in the last fiscal year, when growth slowed to 6.5 percent, compared with over 8 percent growth in the recent past.
While the Indian government continues to forecast an upturn in the coming six months, analysts are skeptical.
"There is little reason to expect an upturn in the coming months," Kenningham said. "For one thing, promises of further reforms have not been backed up with sufficient concrete measures. The liberalization of FDI in the retail, aviation and pension sectors announced in mid- September will have only a small and gradual effect."
Moreover, slowing GDP growth coupled with rising inflation, gives little room for fiscal or monetary maneuvering.
Inflationary pressures appear to have increased slightly in recent months. Wholesale price inflation, which the Reserve Bank of India gives more weight to in setting policy, rose to 7.8 percent in September, largely due to September's diesel price hike, and may well breach 8 percent in October (data to be published on Wednesday) and rise further by December. A Reuters poll of economists showed wholesale price inflation was seen accelerating to 7.96 percent, an 11-month high.
The next monetary policy review is due in December. The central bank has said any interest rate cut is "highly improbable" at that meeting, since it expects elevated price pressures following the hike in the price of heavily subsidized diesel in September.
Kenningham expects the central bank to cut interest rate by 25 basis points in early 2013, with another to follow later in the year. However, this is not a done deal.
"Even [if] we are right, rate cuts of 50 basis points will not be sufficient to generate a substantial rise in GDP growth, given that rates would still be relatively high, at 7.5 percent," Kenningham said. "And with inflation remaining sticky, there is little chance of much larger rate cuts."
© Copyright IBTimes 2023. All rights reserved.