India Rejected US Concerns Over Mumbai Consulate's Security Over A Major Political Rally, Which Followed An Attack On A Domino's Pizza Outlet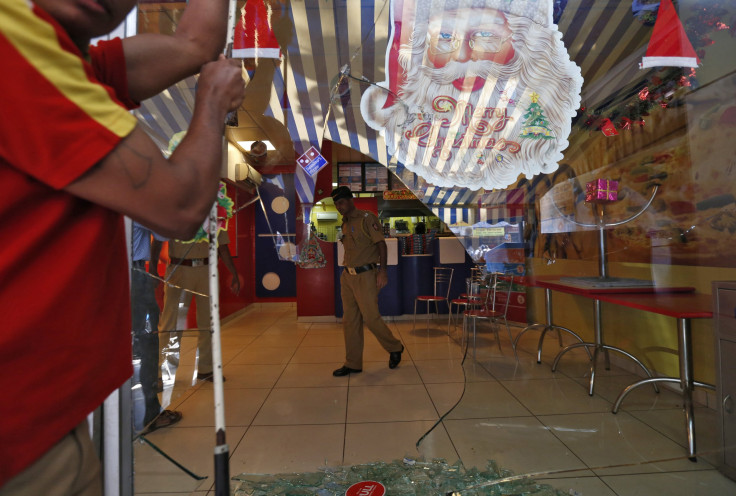 India rejected U.S. concerns that the removal of security barricades around its consulate in Mumbai rendered the diplomatic facility vulnerable to attacks, after protesters attacked a pizza outlet run by Domino's Pizza, Inc. (NYSE:DPZ) in the city on Friday, calling for a ban on U.S. goods amid a diplomatic row between the two nations.
The U.S. government's concerns about the safety of its personnel coincided with a rally on Sunday organized by the right-wing Bharatiya Janata Party, the nation's main opposition party. Narendra Modi, the chief minister of the western state of Gujarat and the BJP's prime-ministerial candidate addressed the rally, which was carried out without incident. The event, which was held in the suburb of Bandra, is also home to the U.S. consulate.
The barricades around the Mumbai consulate and the U.S. embassy in the national capital, New Delhi, were removed last week in an apparent retaliation over the arrest of Devyani Khobragade, India's deputy consul general in New York, on charges of visa fraud and for underpaying her former housekeeper.
India said its political parties have the right to hold a rally in Mumbai and reiterated its repeated assertions that the security of U.S. diplomatic installations in India has not been compromised by the removal of barricades. India has insisted that the removal of barricades only affects traffic movement near the consulate and does not impact security.
India said expressing "specious" concern about a "legitimate political rally" by a key political party is not acceptable, the Times of India reported.
Meanwhile, the Indian franchise of Domino's said no one was hurt in the attack on its outlet, which was perpetrated by people belonging to the Republican Party of India, according to a Reuters report. Police in Mumbai said patrolling in areas near major U.S. company outlets including McDonald's Corporation (NYSE:MCD) has been stepped up in the wake of the attack on the Domino's outlet.
"The fact is that (the) American authorities have behaved atrociously with an Indian diplomat. And obviously, America has to make good for its actions," Manish Tiwari, India's minister for information and broadcasting, said on Friday, according to Reuters.
"So therefore, I think it is a legitimate expectation, that if they have erred, and they have erred grievously in this matter, they should come forth and apologize."
© Copyright IBTimes 2023. All rights reserved.