Devyani Khobragade Row: Secretary Of State John Kerry Expresses 'Regret,' While US Prosecutor Defends The Arrest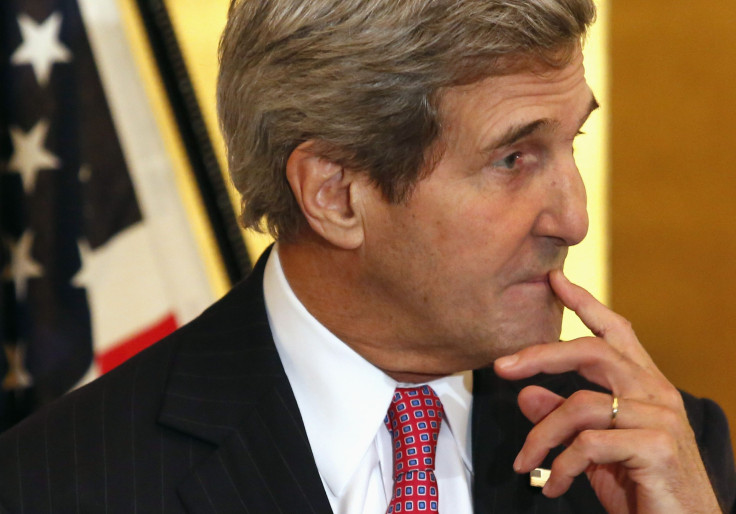 U.S. Secretary of State John Kerry expressed regret over the events that transpired following the arrest of an Indian official in New York on charges of visa fraud, while the U.S. attorney in Manhattan, Preet Bharara, defended the arrest and the official's treatment, in a case that has escalated into a diplomatic spat threatening ties between the U.S. and India.
The Indian government has vowed to "restore the dignity" of India's deputy consul general in New York, Devyani Khobragade, 39, who is accused of helping file a fraudulent document and of making false statements to the U.S. State Department to procure a visa for Sangeeta Richard, an Indian national, who worked as a nanny at Khobragade's home in New York.
Kerry, in a call to India's National Security Advisor Shivsankar Menon, "expressed his regret, as well as his concern that we not allow this unfortunate public issue to hurt our close and vital relationship with India," the State Department said in a statement on Wednesday.
"As the father of two daughters about the same age (as Khobragade) he (Kerry) empathizes with the sensitivities, certainly," Marie Harf, a spokesperson for the State Department, said in a press briefing in Washington.
However, Bharara, in a lengthy written statement issued on Wednesday, said there was "much misinformation and factual inaccuracy" in media reports about the case, which were "misleading people and creating an inflammatory atmosphere on an unfounded basis."
"One wonders why there is so much outrage about the alleged treatment of the Indian national accused of perpetrating these acts, but precious little outrage about the alleged treatment of the Indian victim and her spouse?" Bharara said in the statement, adding that Khobragade "was accorded courtesies well beyond what other defendants, most of whom are American citizens, are accorded."
"She was not, as has been incorrectly reported, arrested in front of her children. The agents arrested her in the most discreet way possible, and unlike most defendants, she was not then handcuffed or restrained," Bharara, an Indian American who has gained recognition for prosecuting white-collar crime on Wall Street, said.
He said the arresting officers did not seize Khobragade's phone, in a deviation from normal procedure, and instead allowed her to make calls to arrange personal matters "and contact whomever she needed, including allowing her to arrange for child care."
"The agents let her make those calls from their car and even brought her coffee and offered to get her food," Bharara said.
Referring to complaints that she was strip-searched, Bharara said: "It is true that she was fully searched by a female Deputy Marshal -- in a private setting -- when she was brought into the U.S. Marshals' custody, but this is standard practice for every defendant, rich or poor, American or not, in order to make sure that no prisoner keeps anything on his person that could harm anyone, including himself. This is in the interests of everyone's safety."
New Delhi said Khobragade has been appointed to its permanent mission at the United Nations. In her new role, she is entitled to full diplomatic immunity from prosecution retroactively, her lawyer Daniel Arshack said, according to a Reuters report.
However, the State Department said it has to sign off on the change in her posting adding that it has not received any official communication regarding "a possible change of credentials."
"In terms of the process, if and when such a request is made to the UN, it would be made to the UN secretariat who would then inform the Department of State… But, we haven't received such a request," Harf said.
According to Bharara, Richard's family was brought back to the U.S. in December, because a "legal process was started in India against the victim, attempting to silence her."
Meanwhile, India's minister for external affairs, Salman Khurshid, told parliament on Wednesday that Khobragade's arrest was a result of "conspiracy and some people trapped her," Press Trust of India reported.
Earlier this year, Khobragade had "received a phone call from a lawyer who refused to identify himself and offered to settle the matter that would result in grant of permanent citizenship to her and a huge compensation," Khurshid said.
Khurshid said the treatment meted out to the official had "not happened out of blue" and there is a "history" behind it, PTI reported. And, according to a CNN report on Thursday afternoon, Khurshid was planning a call with Kerry on Thursday to discuss the issue.
© Copyright IBTimes 2023. All rights reserved.