India Rescues More Than 50,000 People From Jammu And Kashmir As Flood Waters Recede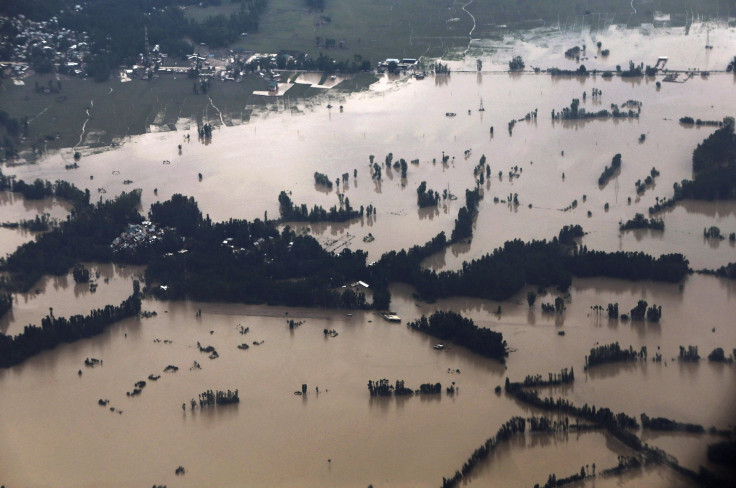 The Indian army has rescued more than 50,000 people from the northern state of Jammu and Kashmir, while flood waters began receding slowly, local reports said Wednesday. The floods, which have already killed more than 450 people on both sides of the India-Pakistan border, were triggered by the heaviest rainfall in the region in half a century.
Nearly 76,000 people have reportedly been evacuated from flood-hit areas in Kashmir and rescue forces have been keeping up a constant supply of food and medical aid to those stranded in remote areas. Srinagar, the state's summer capital, which was inundated by flood waters has suffered an extended power outage while cellular phone connectivity in the region too was affected, making it difficult for those trapped by flood waters to call for help, according to reports.
"The big problem that is hampering rescue activities in the (Kashmir) Valley is that telecom links have become dysfunctional... The Department of Telecommunications (DOT) is trying its best to restore the links quickly," an Indian official said, according to Zee News, a local news network. More than 400,000 people are still stranded in the region, according to Zee News.
The Indian army also rescued a team of 28 Pakistani golfers who were in Srinagar for a tournament, according to a report from Dawn, a Pakistani newspaper, which added that India's army had arranged to airlift the players back to Pakistan. Earlier this week, India's Prime Minister Narendra Modi had declared the floods in the region to be a national disaster and had offered help to Pakistan's forces to conduct an evacuation in the region controlled by Pakistan.
"Finally the flood water levels are receding. Now our teams will be able to enter some of the villages that are totally submerged. Our boats are ready," R.K. Khan, a police official in Srinagar, told Reuters, adding: "There are some villages where everything has been swept away. People are extremely angry, frustrated and exhausted."
The river Jhelum, which runs through Pakistan and India, flowed over its banks last week, causing landslides and destroying infrastructure in both countries. The United Nations too has offered to help in the rescue operations.
"I know people have lost everything. We promise to rehabilitate them. No relief and rehab camps can be perfect. We are doing all we can," Omar Abdullah, Jammu and Kashmir's chief minister, said, according to Reuters.
© Copyright IBTimes 2023. All rights reserved.