India, Russia sign $30 bln deal to design and make fighter jets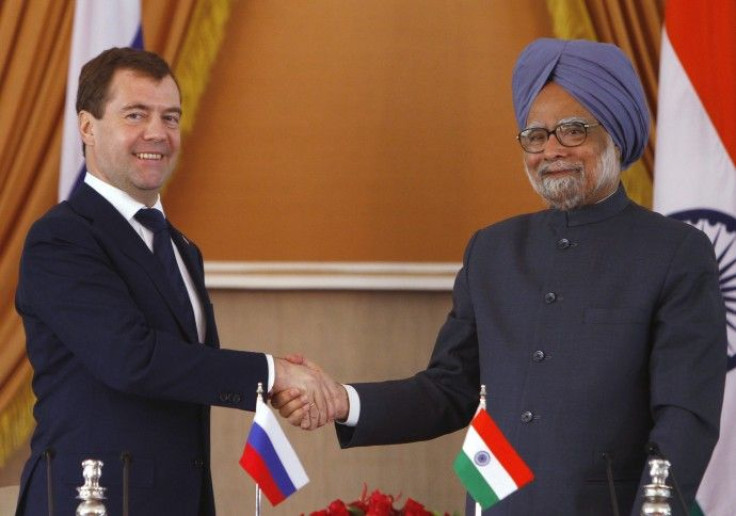 India and Russia on Tuesday signed a deal worth $30 billion to design and make fifth generation fighter aircraft taking defense co-operation between the two nations to a new level.
This agreement was signed along with 29 other pacts between India and Russia after talks between India's prime minister Manmohan Singh and Russian president Dmitry Medvedev, who is in India on a two-day visit.
The Indian Air Force plans to induct 250-300 of these fifth generation fighter aircraft, each costing around $100 million, from 2017 and will compete with the US F-22 Raptor and the under production F-35 Lightning II, both of which are made by a consortium led by Lockheed Martin.
Hindustan Aeronautics Ltd of India and the Sukhoi Design Bureau along with Rosoboronexport of Russia will jointly develop the project.
Russian president Medvedev, who is the last in a stream of world leaders to visit New Delhi this year, decided to double bilateral trade between the two nations to $20 billion by 2015, underscoring India's growing diplomatic importance.
India and Russia reached an agreement that will allow construction of two additional nuclear power generating units in the south Indian state of Tamil Nadu at Kudankulam, where Russia is already establishing two reactors, a joint statement said.
The first unit will be commissioned by the month-end or early next month and the second unit will be commissioned by the next year-end.
India and Russia also concluded an inter-governmental agreement (IGA) on cooperation in oil and gas sector but failed to agree to an annexure that would have bound Moscow to ensure that these projects or their financials conclude in the stipulated time.
"This (IGA) is the result of a lot of hard work put in by both sides, and reflects the complementarities between our two economies. We will work towards its implementation through a mutually-agreed roadmap," prime minister Manmohan Singh said at the 'Joint Press Interaction' along with visiting Russian President Dmitry Medvedev.
The annexure would have provided the much-needed tax relief from next year to ONGC Videsh's Imperial Energy for oil and gas produced from Tomsk field.
Reports said Imperial Energy pays mineral extraction tax at $13.5 a barrel and export duty of $4 on crude price of $25 a barrel with an extra 65 per cent duty on price exceeding $25.
Reports quoted unnamed sources as saying that Russia has promised it will levy taxes from 2012 on profit instead of every barrel of oil produced. The annexure will also have a fixed timeline for concluding cooperation in giant oilfields of Trebs & Titov with Bashneft, Kirinsky gas block with Gazprom, Yurubcheno-Tokhomskoye oil field with Rosneft and Yamal LNG project with Novatek, among others.
Other agreements pertained to simplification of visa procedures for certain categories, including businessmen, enhancement of cooperation in oil and gas sector, memorandum of understanding (MoU) for cooperation in the pharmaceutical sector, MoU on combating irregular migration and agreement on cooperation in the field of emergency management.
Meanwhile, Russian president Medvedev told journalists that his country backed India's position on Pakistan and said no civilised nation should "hide terrorists".
He said terrorists should be handed over for trial in the 26/11 Mumbai attack case.
"Russia is a time-tested friend of India that has stood by us in our times of need," Prime Minister Manmohan Singh told reporters after the talks.
"We are determined to work together to cooperate in information and intelligence sharing and in devising effective counter-terrorism strategies," he said.
Medvedev also supported India's quest for a permanent seat at the United Nations Security Council, which was earlier endorsed by United States and France. However, China has not been enthusiastic about backing India's bid.
© Copyright IBTimes 2023. All rights reserved.