Indian F1 Grand Prix Likely To Crash Out Of 2014 Formula 1 Calendar Over Tax, Political Issues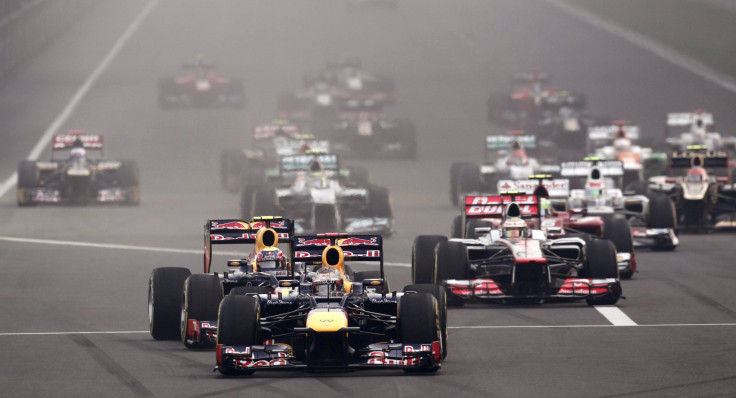 The Indian Grand Prix is likely to be excluded from the Formula One calendar next year because of a long-standing dispute over high taxes, prematurely terminating a five-year agreement with realty group Jaypee to organize the hugely popular sporting event until 2015.
"Is India going to happen next year? Probably not," Bernie Ecclestone, president and CEO of Formula One Management and Formula One Administration, told Reuters at the Hungarian Grand Prix in Budapest.
Asked why, Ecclestone said that the reason behind dropping the Indian Grand Prix from next year's Formula One calendar is "very political."
Vicky Chandhok, the chief of the Federation of Motor Sports Clubs of India, has confirmed that the future of next year's race in India is in question. However, he said, that the Indian Grand Prix still had a future beyond 2014 because race promoters, Jaypee Sports International, and Ecclestone were in talks to shift the race from late 2014 to early 2015 with an extension to 2016 to compensate for the missed year.
"With that in mind, 2014 obviously doesn't make logical sense and nobody can afford to have a late start in 2014 and then host another grand prix early 2015," Chandhok told Reuters. "I think what they are trying is to find a solution to run 2015 early in the year and 2016 instead of 2014 late."
Noida-based Jaypee Group organized both editions of the Indian Grand Prix in 2011 and 2012, at the Buddh International Circuit, or BIC, in Greater Noida outside New Delhi. The third edition, which would be the 16th round of the 19-race championship, is scheduled for October 27.
"We have not received anything in writing from the Formula One management on the status of the 2014 Indian Grand Prix. We are keen that Formula One races take place in India at the Buddh International Circuit till our contract is in operation that is 2015," a Jaypee Group spokesperson said.
According to media reports, there have been issues over finances and the sport's exposure to high local taxes -- a hurdle that is absent in most other countries that host the race.
Ever since the opening of BIC, property developers have been launching projects around the stadium and hard-selling "proximity to the track" to potential buyers. The nearby Yamuna Expressway corridor also has seen a number of launches, with real estate prices increasing in many areas because of the racing event, Business Standard reported.
Meanwhile, Ecclestone also intends to limit the number of races in a calendar year to 20 based on teams' preferences. Reports said that Ecclestone currently has 22 races jostling for space on the F1 calendar.
Karun Chandhok, son of Vicky Chandhok and a F1 driver, told NDTV Sports that tax disputes and bureaucracy surrounding the race in India had resulted in the venue falling out of favor with international teams participating in the year-round event.
"Many of the teams say that this is one of the potential hurdles for them, and something that they don't have to face in other countries. Don't forget India is one of only 3 races besides the British GP and the Japanese GP, that are privately run races, the rest of the races are run by the government-associated organisations," he said.
© Copyright IBTimes 2023. All rights reserved.