Indian IT Companies Cheer Weak Rupee, But US Immigration Bill That Seeks To Make Visas More Expensive Would Hit Business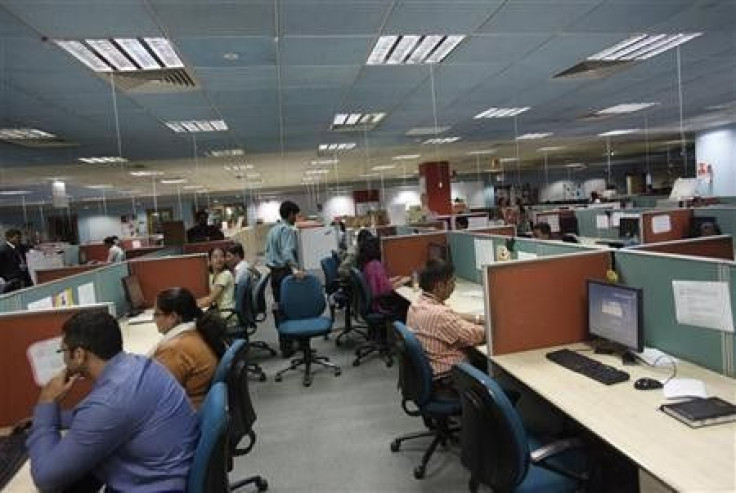 The Indian rupee has been on a steady decline against the U.S. dollar in past months -- a fact that has considerably helped the bottom line of Indian IT majors, which earn a major share of their revenues in dollars.
These companies, which have managed to tide over the global slowdown partly with help from a weaker rupee, which makes their services more competitive in markets like the U.S., are prepared to pass on some of the benefits to their clients.
At the same time, they worry about a landmark immigration reform bill, currently under consideration in the U.S. Senate, which if passed, would hit Indian outsourcing firms with higher visa fees.
The rupee has depreciated about 6.5 percent since April and, if the trend sustained till the end of the quarter, could translate to a 1.8 to 2.4 percentage-point boost to the operating profit margins of Indian IT companies, according to an Economic Times report.
In a highly competitive technology outsourcing market, Indian companies are expected to seek advantage of this scenario by providing discounts to their U.S. clients, the report said.
About 52 percent of all business conducted by Tata Consultancy Services Ltd (NSE:TCS), or TCS, is centered in North America, while Infosys Ltd (NYSE:INFY) currently earns 63 percent of its total revenue from the region, according to a Press Trust of India report. Due to the companies' business model, any fluctuations in the rupee-dollar equation can significantly impact their profit margins.
However, the comprehensive immigration reform bill, which cleared an early hurdle in the Senate on Tuesday, would double the cost of processing visas for India's software firms, which rely heavily on short- and long-term work visas for their employees based at client locations in the U.S., technology research firm Gartner Inc., said in a report.
Senate Democrats and Republicans voted overwhelmingly to begin debate on the bill, marking the first time an immigration overhaul has advanced this far, according to USA Today.
The process for changes to the bill is expected to last until 2014, but in its current form, it would disrupt the business model of top Indian software exporters, which depend on temporary visas to bring workers into the U.S.
New restrictions and limits on the total percentage of foreigners working in the U.S. on the H-1B visa, created in 1990 to allow technology companies to bring in skilled employees from overseas, will force Indian firms to downsize their non-American workforce in the U.S, the report said.
"If the legislation is passed as currently proposed, it would greatly limit the ability for many India centric service providers to deploy specific resources in the U.S.," Frances Karamouzis, vice-president at Gartner, said in the report. "One potential impact to U.S. enterprises with offshore outsourcing contracts is that costs would go up due to increased bill rates."
Unlike Google and Microsoft, which also use H-1B visas to recruit skilled foreign labor, outsourcing companies are heavily dependent on the program and restrictions on foreign labor flow to the U.S. could result in lower profit margins for such companies, according to analysts.
In April, Sen. Dick Durbin (D-IL) accused "outsourcing firms like Infosys, Wipro, Tata and others" of abusing the H-1B visa program, saying: "Americans would be shocked to know that the H-1B visas are not going to Microsoft; they're going to these firms, largely in India, who are finding workers, engineers, who will work at low wages in the U.S. for three years and pay a fee to Infosys or these companies," PTI reported.
© Copyright IBTimes 2023. All rights reserved.
FOLLOW MORE IBT NEWS ON THE BELOW CHANNELS