Indian Man Worships Trump Like God, Offers Blood To President's Photograph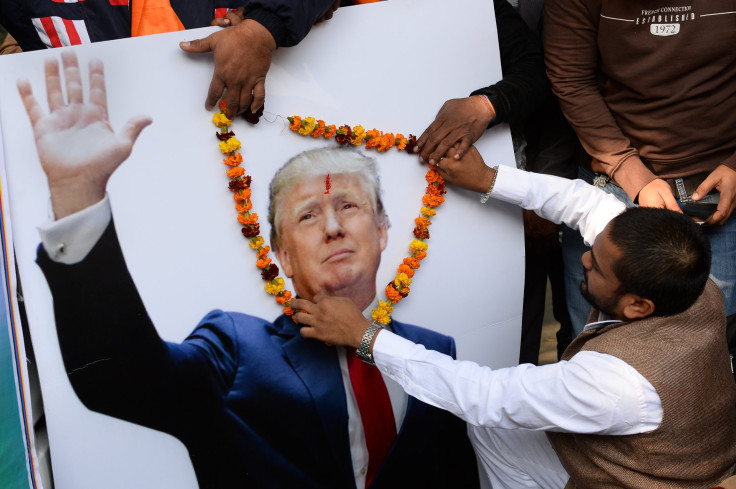 An Indian farmer has taken his country's devotion to Gods to another level by treating President Donald Trump as a revered deity.
Bussa Krishna, from Konne village in the southern state of Telangana, has a framed photograph of Trump occupying a special place in his "puja room" or religious shrine in the house along with idols of other Hindu Gods. The 31-year-old farmer, who is locally known as "Krish," treats the photograph just like that of any other Hindu deity and also performs spiritual rituals such as offering vermillion, turmeric and flowers to the picture apart from praying religiously every day.
Krishna has even uploaded videos of bathing the photograph with milk (a ritual called "abhishekam") on his Facebook page. Apart from that, he even prepared water and blood baths for the president.
He also has a Twitter account where many photos and graphic videos, including one where he cuts himself with a blade and rubs the blood all over Trump's photo, are seen.
Warning: The following video might be disturbing for some viewers.
According to Indian newspaper Hindustan Times, Krishna's love for Trump began when Srinivas Kuchibhotla, a software engineer from his state, was killed by a U.S. navy veteran in an alleged act of hate crime in February 2017.
"I was very much pained at the incident. I thought the only way the US president and his people could understand the greatness of Indians is to display our love and affection towards them. That is why I started worshipping Trump with a hope that the prayers would reach him one day," he told the outlet. "I believe Indians can win over anyone with their spiritual powers. When you cannot take on a mighty person directly, you can win over him with love and worship and that is what I am doing."
So what does Krishna know about Trump? Not much, it seems, since he was unaware of most of the president's controversial policies which have raked up a storm in the U.S. However, the lack of information does not stop him from worshipping his idol.
"I only know that he is the most strong and invincible leader in the world. What I liked about him was his bold attitude. Since he took part in World Wrestling Federation (WWF) competitions, he must be very powerful," he said.
Nevertheless, the farmer was well-aware of the opposition the POTUS faced from his own countrymen, which according to Krishna, was the sign of a true leader.
"He is a leader with guts to do what he thinks is good for his country. Why the leader of a country should be bothered about the feelings of other countries. He has to deliver what the people of his country expect of him," asserted Krishna. "Opposition to any leader in his own country is common in a democracy."
Krishna's devotion has wrecked his personal life, with her family abandoning him because they could not watch him worshipping the leader of the free world as a God anymore.
"My family and village people call me mad. Once they suggested I should visit a psychologist. I told them 'I don't require any, maybe you should go, because he is my God and I am not bothered about stuff others say," said Krishna.
What gave him a boost, Krishna claimed, was the fact that Trump tweeted to him on June 19. Even though Trump's Twitter account currently holds no trace of the tweet sent to Krishna, the devotee shared a screenshot of the same to multiple news outlets.
"Krish from India is a very close friend of mine; out of the billions and billions of Indians, he is my favorite. He's able to channel dragon energy from worshipping my photos; may be low-energy Jeb Bush should give it a try; I'd be happy send him a pic! See you soon Krish!" Trump's message read.
Now, Krishna cannot wait to meet Trump, although he is concerned about his accommodation if he plans to fly to the U.S. in the future.
"Except Trump, I don't have any known person in America," he told local news outlet Mumbai Mirror.
As for the relation between India and the U.S., he wants both the countries to combine their power and become the strongest international allies in the world. "The two flags should fly high," he said.
But, in spite of this wish, he refused to talk about Indian Prime Minister Narendra Modi, with his only comment on the matter being: "I shouldn't say."
© Copyright IBTimes 2023. All rights reserved.