Indian Muslims Protest Against Anti-Terror Drills In Narendra Modi's Home State Of Gujarat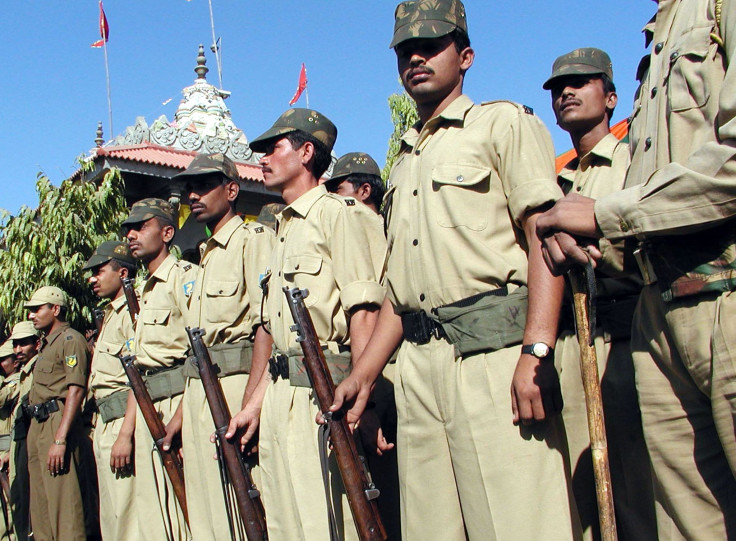 Police in the western Indian state of Gujarat have come under fire for conducting anti-terror drills using people who posed as militants with white skullcaps and shouted pro-Islamic slogans, according to local media reports. Muslim leaders reportedly criticized the incident as "atrocious and highly condemnable" after videos showing two separate police drills surfaced over the last two days.
According to local media reports, the videos released Wednesday showed police personnel in the city of Surat capturing three people posing as militants while dressed in white skullcaps and long white tunics, which are traditionally worn by Muslims. Another video that surfaced on Thursday reportedly showed a similar drill in the Narmada district, where people posing as militants were also heard shouting pro-Islamic slogans such as "Islam zindabad (long live Islam)."
After the videos were shown by several local television networks, Gujarat's Chief Minister Anandiben Patel, who belongs to the Hindu nationalist Bharatiya Janata Party (BJP), reportedly admitted that it was a "mistake" to link religion with terrorism.
"The mistake has been rectified. The issue has been resolved and the matter should be put to rest now," Patel said, according to local media reports.
However, Kamal Farooqui, a member of the All India Muslim Personal Law Board, reportedly demanded that the state government take legal action against those responsible. "It is profiling the Muslim community which is very bad. They (police) should apologize, otherwise they should be taken to the court," Farooqui reportedly said.
Meanwhile, Gujarat police, which had initially tried to brush off criticism and had asked the media not to sensationalize the incident, has eventually apologized and said that it was an "avoidable situation," according to local media reports.
"We will conduct an inquiry and take necessary actions against those responsible," Jaypalsinh Rathore, a senior police official told the Press Trust of India, an Indian news agency.
The incident comes in the backdrop of accusations leveled against the Narendra Modi-led BJP federal government over forcible conversions of Muslims and Christians in the northern Indian state of Uttar Pradesh by hard-line Hindu groups.
Modi, who was also the chief minister of Gujarat when communal riots in the state led to the deaths of over 2,000 people, has been accused of not doing enough to rein in right-wing Hindu groups like the Rashtriya Swayamsevak Sangh and the Vishva Hindu Parishad.
© Copyright IBTimes 2023. All rights reserved.
FOLLOW MORE IBT NEWS ON THE BELOW CHANNELS