Indian Politician Jayalalitha To Ask For Bail, Interim Chief Minister Of Tamil Nadu State Appointed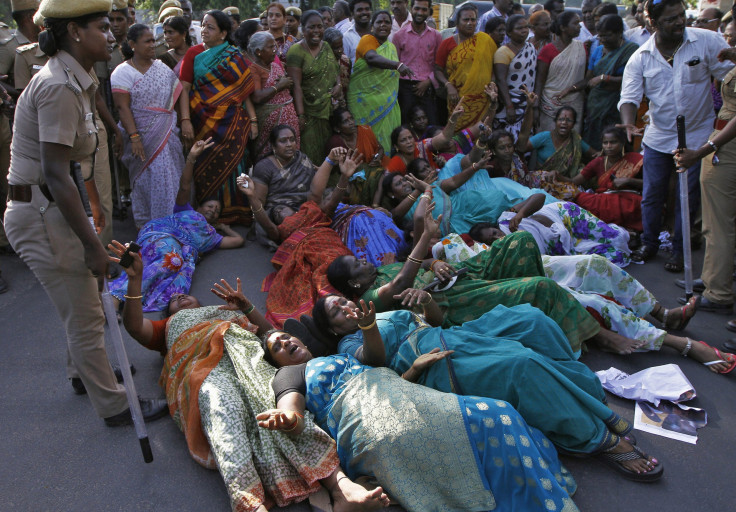 Tamil Nadu, a state in southeastern India, appointed a new chief minister Monday after its former leader, J. Jayalalitha, was found guilty on corruption charges by a court in the neighboring state of Karnataka. Supporters of Jayalalitha, who became a politician after a successful career as a movie actress, claim the charges are politically motivated.
O. Panneerselvam was sworn in Monday, according to local media reports, even as Jayalalitha prepares to file a request for bail and contest the ruling in a higher court. Jayalalitha was arrested Saturday after a special court in Bangalore found her guilty of owning assets disproportionate to her known sources of income, and sentenced her to four years in jail. The politician, a colorful personality known for her opulent lifestyle, is an extremely divisive figure in her home state, and the court's ruling was greeted by widespread violent protests across the state, and 16 supporters reportedly committed suicide in protest.
Panneerselvam has reportedly been a faithful aide to Jayalalitha, who is locally called "amma" or mother, and he earlier headed the state in 2001, when Jayalalitha was convicted for criminal offenses in a separate case, including allegedly obtaining property belonging to a state-operated agency.
According to officials from her party, AIADMK, his swearing-in ceremony was expected to be a mellow one, The Economic Times, or ET, a local newspaper reported. "The effort will be to finish off the ceremony as soon as possible to send a strong message to the cadres that Panneerselvam is just a substitute till Amma returns," a party member told ET.
On Saturday, Jayalalitha was found guilty of having unaccounted wealth worth $10 million and was ordered to pay a fine of $16 million, and sentenced to four years in prison. Three of her aides too were found guilty of corruption and also sentenced to four years in prison. The charges were originally brought against her by the leader of another political party in 1996, claiming that the politician had assets disproportionate to her known sources of income. The actress-turned-politician reportedly owns thousands of saris and hundreds of pairs of shoes, and stirred a national controversy in 1995 when she hosted a massive wedding, costing hundreds of thousands of dollars, for her foster son.
The apex court in the southern state of Karnataka, where the case was moved after prosecutors argued a fair hearing was not possible in Jayalalitha's home state, will hear an appeal against the judgment and for a bail on Tuesday. However, a string of official holidays in the country this week are expected to delay the verdict on her appeal, forcing her to stay in jail until Oct. 7, according to Hindustan Times.
At least 16 supporters reportedly committed suicide or died from cardiac arrest in Tamil Nadu after hearing the sentence against Jayalalitha, while two more are being treated in a hospital for severe burns after they set themselves on fire, according to the Times of India, a local news network.
© Copyright IBTimes 2023. All rights reserved.