Indonesia Arrests 5 Men For Allegedly Sending People To Iraq, Syria To Join ISIS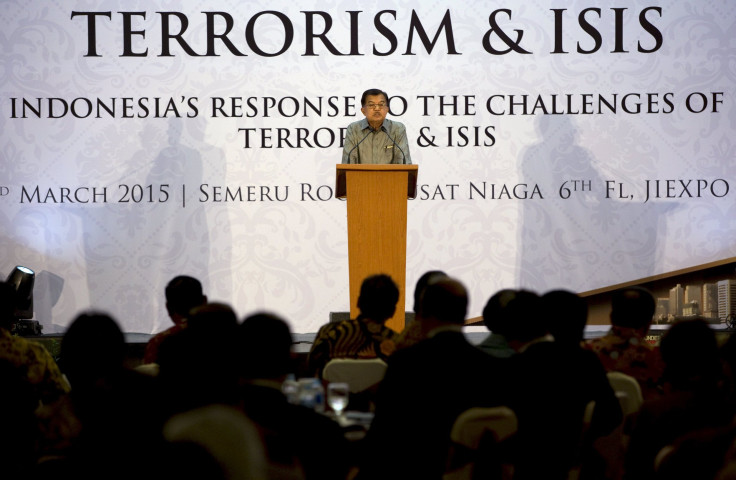 Indonesian police officials arrested five people on Monday, accusing them of recruiting and sending people to Syria and Iraq to fight for the Islamic State group. The suspects were arrested from three different locations around Jakarta, according to media reports.
"The arrests are the result of a police investigation related to the recruitment, funding and propaganda of ISIS," Badrodin Haiti, national deputy police chief, said, according to German news agency DPA.
The men had reportedly sent 37 Indonesians to Turkey from where they could enter Iraq and Syria to join ISIS, DPA reported, citing local newspaper Kompas. While 21 of those had managed to enter Syria, the rest, including 11 children, four women and a man, were arrested by Turkish authorities in January, the Agence France-Presse (AFP) reported.
They are reportedly still detained in Turkey. Officials had also reportedly confiscated nine mobile phones, 8 million rupiah ($615) and $5,300 in American currency.
The men had mostly helped women and children join the extremist group and are accused of "coaching, guidance, and recruitment of sympathisers of IS to depart to Iraq and Syria ... and the collection and distribution of funds for the activities of IS volunteers in Indonesia," Rikwanto, national police spokesman, who goes by one name, said, according to the AFP. Four of the men have been accused of arranging documents for all the 37 Indonesians.
According to the Indonesian government's estimates, more than 500 Indonesian citizens have joined ISIS, which is trying to establish an Islamic Caliphate in Iraq and Syria.
The Indonesian government has been on a crackdown against Islamic militant groups for over a decade after several foreigners were attacked on its soil. In 2002, an attack in the tourist district of Kuta in Bali killed 202 people and injured 209 others. The bomb blasts had claimed the lives of 88 Australians, 38 Indonesians, 27 Britons, 7 Americans, 6 Swedes and 3 Danes.
© Copyright IBTimes 2023. All rights reserved.