Infographic: Amazon Leads $100 Billion Cloud Market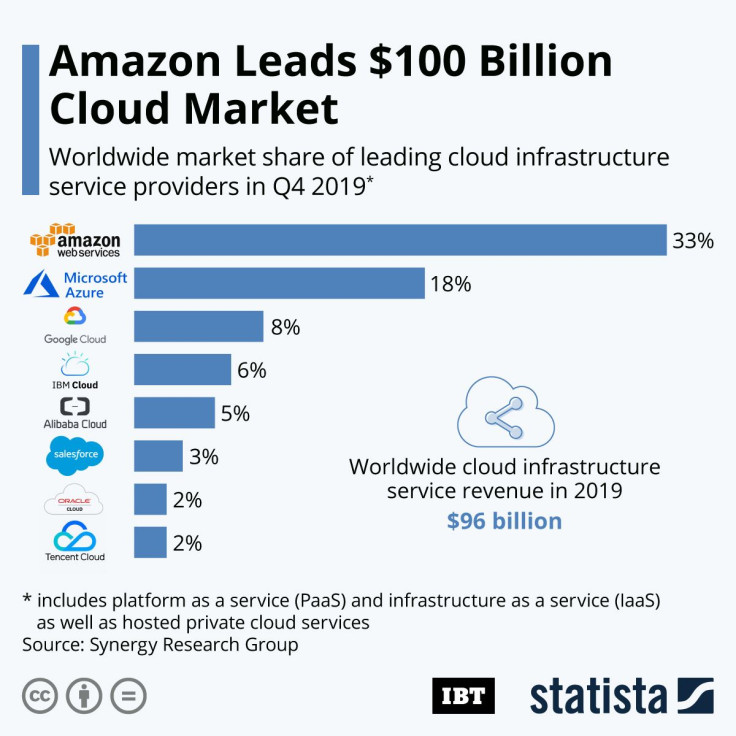 In its bid to challenge the award of a $10 billion cloud contract by the Pentagon to its biggest rival Microsoft, Amazon is seeking to depose President Trump, a long-time critic of Amazon CEO Jeff Bezos (who, to Trump's disdain, also owns the Washington Post). Amazon claims that President Trump put "improper pressure" on the Pentagon to prevent Amazon from winning the contract, stating that his bias against Bezos "is a matter of public record". Amazon Web Services, the market leader in cloud computing, was long considered the front runner to win the Joint Enterprise Defense Infrastructure (JEDI) contract, but in October the Department of Defense surprisingly gave it to Microsoft.
Having established itself as an early leader in the market for cloud infrastructure, Amazon Web Services (AWS), the online retailer's profitable cloud platform, is still ahead of the pack. According to estimates from Synergy Research Group, Amazon's market share in the worldwide cloud infrastructure market amounted to 33 percent in the fourth quarter of 2019, more than the combined market share of its three largest competitors.
In Q4 2019, global cloud infrastructure service revenues amounted to $27 billion, bringing the total for the year to $96 billion. Considering the market's momentum, it can safely be said that cloud infrastructure spending will far exceed $100 billion this year, boding well for Amazon and other major cloud service providers. "The year ended with a bang as Amazon and Microsoft both posted big sequential gains in cloud revenues," said John Dinsdale, Chief Analyst at Synergy Research Group. "Thanks to these two market leaders and strong growth from some other cloud providers, the 2019 market was over twice the size of the 2017 market."