Infographic: Fueled By Stimulus Checks, US Retail Sales Burst Into 2021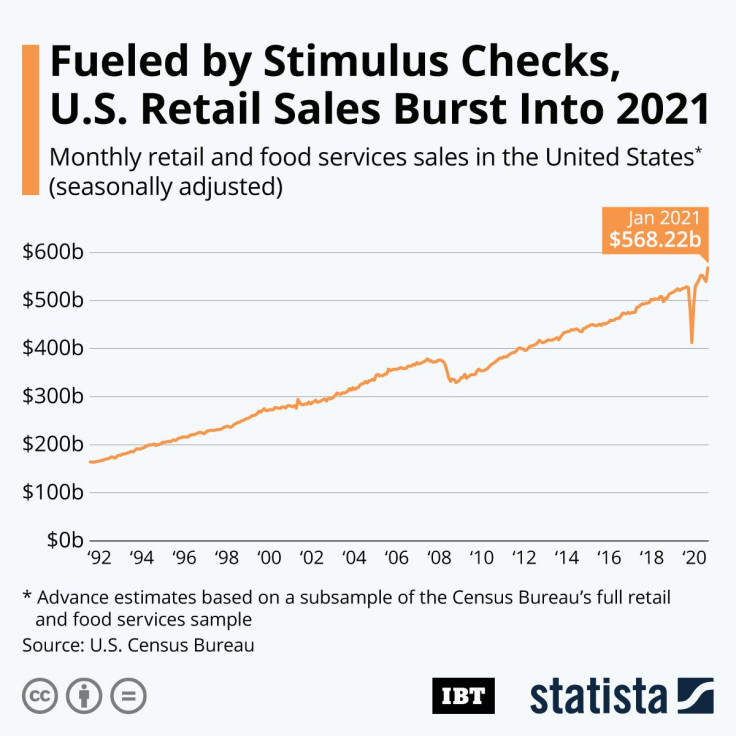 After a disappointing holiday season, U.S. consumer spending picked up steam in January 2021, as retail sales jumped 5.3 percent from the December total on a seasonally adjusted basis. According to advance estimates published by the U.S. Census Bureau, retail and food services sales amounted to $568.2 billion in January, as consumers flocked to stores to spend their $600 stimulus checks. The January spending spree puts retail sales above January 2020 levels, although it needs to be noted that some retailers are still far off their pre-pandemic trajectory.
Due to the widespread lockdown instated to contain the spread of COVID-19, retail sales had plunged 14.7 percent in April, following an already unprecedented 8.2 percent drop in March. To put this in perspective, the highest drop prior to March 2020 had occurred in November 2008, when retail sales declined by less than 4 percent at the height of the financial crisis. As the following chart shows, retail sales have very rarely dipped significantly in the past, with the financial crisis being the most notable exception of the past three decades.