Infographic: Nearly 40% Americans Support Antitrust Action Against Facebook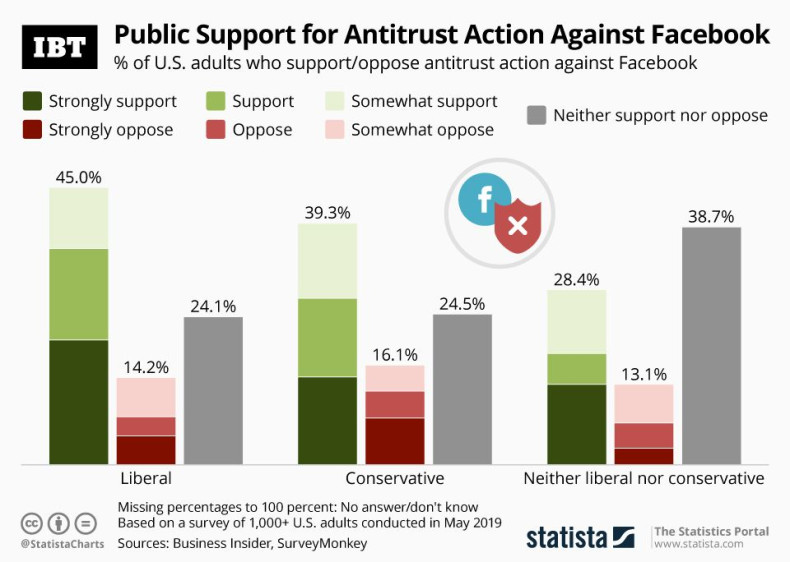 After the recent scandals involving Facebook, its lackluster protection of user data and the company's "too little, too late" reaction to fake news and manipulation across its platforms, calls for the social media behemoth to be regulated are getting louder. Last week, Facebook co-founder Chris Hughes chimed in, calling for the company to be broken up in a New York Times opinion piece.
"I'm disappointed in myself and the early Facebook team for not thinking more about how the News Feed algorithm could change our culture, influence elections, and empower nationalist leaders", Hughes wrote, urging the government to "break up Facebook's monopoly and regulate the company to make it more accountable to the American people". Hughes suggests that the Federal Trade Commission should undo the company's acquisitions of WhatsApp and Instagram, spin the latter two off into separate public companies and make Mark Zuckerberg and other Facebook executives relinquish their interest in both.
According to a recent poll conducted by SurveyMonkey on behalf of Business Insider, the American public is in favor of antitrust action against Facebook. When asked specifically about Hughes' suggestion to split up the company, nearly 40 percent of the 1,000+ adults surveyed said they'd support such a measure while less than 15 percent were opposed to it. As the following chart shows, regulatory action against Facebook finds support across both sides of the political spectrum, with respondents describing themselves as neither liberal nor conservative the most undecided on the matter.