Infosys Turnaround: Incoming CEO Vishal Sikka Favors Tweaks Over Drastic Changes At IT Giant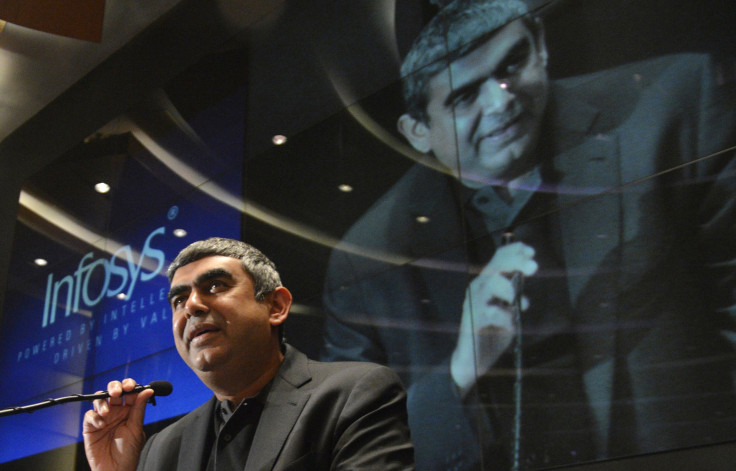 Infosys (BOM:500209, NYSE: INFY) is struggling but incoming CEO Vishal Sikka said his prescription consists more of innovative tweaks than any drastic changes at the software company after he takes over at the end of the week.
Sikka was speaking at the Bangalore-based IT services giant's general meeting that formalized his appointment as the company's chief executive and managing director. He will take over on Friday from incumbent SD Shibulal, the last of the company's founders to hold the top position.
"I see no reason to make any grand changes to the direction we've been going in, but I do see a great opportunity to augment that with new kinds of innovation," said Sikka, who has been offered over $5 million in annual compensation in addition to stock options to lead Infosys.
When Sikka, who quit as chief technology officer at SAP AG before accepting Infosys's offer, starts in his new role, it will be the culmination of a tumultuous 15 months since Infosys's iconic founder NR Narayana Murthy returned from retirement to try and pull the company from the morass it seemed to be stuck in.
When Sikka takes over it will be a break in history as he'll be the first non-founder chief executive, and from outside the company to boot, to lead Infosys at a time when it's future hangs in balance.
In the two years leading up to Murthy's return, Infosys implemented much of a strategy it called Infosys 3.0. This was expected to help the company break away from adding hoards of college recruits, like the rest of India's outsourcing industry, and bring in disproportionately higher revenue growth from a combination of proprietary software products and platforms and consulting.
But that effort coincided with financial crises in the U.S. and Europe that left the company's biggest customers in no mood for fancy projects, the strategy didn't really take off and Infosys lost ground to rivals such as Tata Consultancy Services, paying the price for neglecting its bread-and-butter IT outsourcing business. Sales growth fell close to 80 percent in the two years before Murthy returned, margins were down nearly 45 percent, and Infosys continues to lag its peers in the Indian IT sector.
Murthy vowed in June 2013 that he would reverse the trend and put the company back on track to winning large outsourcing contracts. He offered ruthless cost cutting, productivity improvement in software delivery and renewed focus on sales effectiveness.
Since Murthy's return, leading up to Sikka's selection in June this year, some 13 top executives quit, including those who were considered CEO candidates. However, bolstered by a gradually improving US economy, Infosys is showing signs of accelerating its growth, largely meeting street expectations over the last one year. The U.S. accounts for 60 percent of Infosys's revenues.
"The initiatives taken by Mr. Murthy (and others) over the last one year has started to show results, and we are confident that the team we have in place and recent momentum is in our favor," Sikka told shareholders from Bangalore. He will continue to be based in California where his family is, and travel as needed, he has said.
Sikka, 47, has a doctorate in computer science from Stanford University and is often called the father of HANA, SAP AG's in-memory analytics and applications platform. Since his very first interactions with the media and others, he has always argued Infosys is uniquely placed to deliver path-breaking software to its clients.
Shareholders got a broad-brush glimpse of that philosophy on Wednesday: "The world around us is becoming fundamentally reshaped by software ... it is happening in every industry that we already operate in, and so I see great opportunity in bringing innovative new kinds of software to our clients."
© Copyright IBTimes 2023. All rights reserved.