Instagram Snapchat-Like Stories Update: How To Add Stickers, Shoot Hands-Free Videos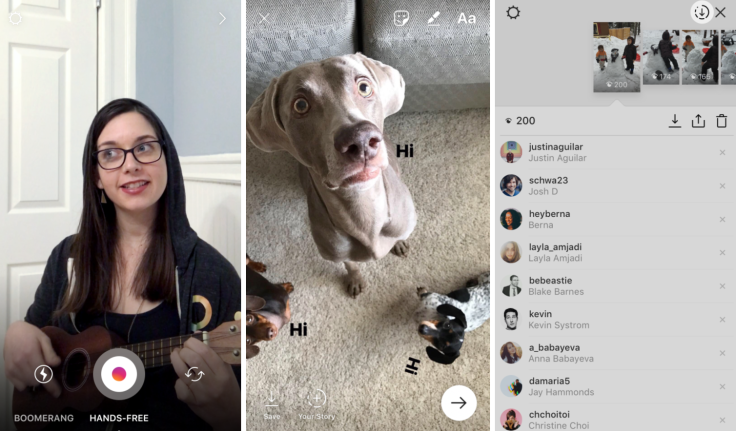 Instagram wants to spice up your photos and videos with Stickers that display location names, time, weather and emoji. There's also limited-time seasonal graphics like Christmas trees, Hanukkah menorah and a candy paint brush.
How To Add Stickers To Instagram Stories
After you shoot a photo or video on Instagram, you can access the Stickers by tapping the smiley icon at the top of the Stories camera screen. This reveals a ton of stickers. For location, you can search for anywhere in Instagram Place's to turn a store, landmark or city into a Sticker. You can add locations from anywhere around the world, unlike Snapchat, which features drawn geofilters that are only available while you're nearby. They also come in two fonts, white or purple, that you swap between by tapping.
In addition to location, time and weather, some of the seasonal stickers can be tapped to change their design. You can see the time as an analog clock, old alarm clock or digital clock, while the weather can show the temperature, too.
If you're not too thrilled with stickers, you might be by a few other Instagram Stories updates.
How To Shoot Hands-Free Video On Instagram
You can add as much text to our photo or video as you want - just keep tapping the text button to add more. Choose between left, center and right text, and a new slider easily lets you adjust the size when it comes to automatic text wrap.
On iOS, you can also save your entire story from the past 24 hours to your camera roll as a single video.
The updates for Instagram Stories are available for iOS in the Apple Store and for Android in Google Play.
© Copyright IBTimes 2023. All rights reserved.