Inter Milan-Suning Deal: Chinese Appliance Retailer Buys 70% Stake In Italian Soccer Giant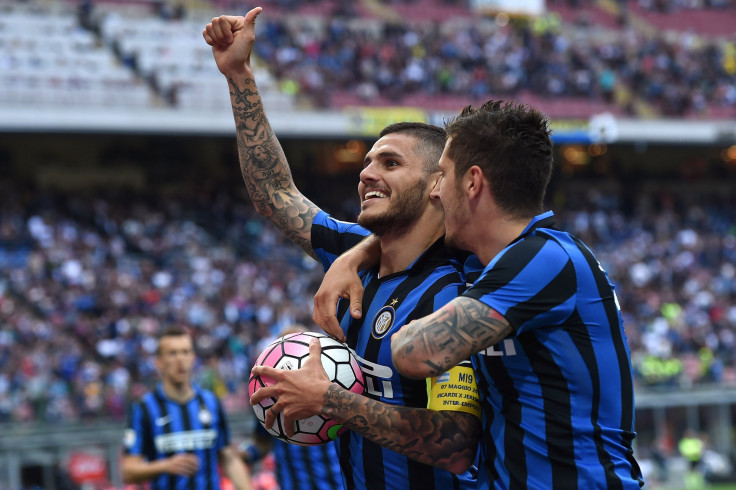 SHANGHAI — Chinese home appliance retailer Suning Commerce Group has bought a controlling stake in Italian soccer giant Internazionale, also known as Inter Milan, in a move seen as highlighting both the growing global ambitions of Chinese companies and the determination of the country's President Xi Jinping to make China a major soccer power.
Suning, China's biggest retailer, announced its purchase of a 68.55 percent stake in Inter, worth some $307 million, in a glitzy ceremony broadcast live online from its headquarters in the eastern city of Nanjing. Amid blaring Italian pop music, on a stage adorned with the slogan "More international, More exciting," Suning chairman Zhang Jindong and Inter's president and former majority owner Erick Thohir toasted the deal with champagne, as TV hosts spoke of a "historic moment for Chinese sport," while former Inter star Javier Zanetti looked on.
Zhang said he planned to make Inter, which has not won a trophy for five years, "great again" – and vowed to "inject a steady stream of capital investment" into the club, Hong Kong's South China Morning Post reported.
The acquisition is the latest – and biggest – in a growing trend of Chinese investment in European soccer. Last year China's richest man, Wanda Group property tycoon Wang Jianlin, bought a 20 percent stake in top Spanish club Atletico Madrid. Chinese investors last year also bought a 13 percent stake in English club Manchester City, while Chinese owners have also taken over lesser Spanish club Espanyol, and most recently, English second-tier team Aston Villa.
But Suning's assumption of majority ownership at Inter, one of the biggest and most historic names in world soccer, is on another level. Analysts said it reflected a coalescing of factors – the wealth of some of China's biggest companies, despite the country's slowing economy; the relative strength of China's currency the yuan against the euro; and equally significantly, a national obsession with soccer, which was highlighted by President Xi Jinping's announcement last year of a national soccer blueprint, with the aim of hosting and one day winning the FIFA World Cup.
It was therefore clearly no coincidence that a senior official from the Chinese Football Association was present to congratulate Suning on the takeover, saying it would encourage more young people to get involved in the sport, and was a "precious opportunity" to raise China's level of football administration.
For Suning President Zhang, who set up his first small shop in 1990 and turned Suning into a retail giant that has ridden the internet wave and had a turnover of some $24 billion last year, it's another stage in what are reported to be plans to build a "sports eco-system," as the company, like many Chinese industry giants, seeks to diversify. And he made no secret of his desire to boost his company's international profile.
"The acquisition of Inter is a strategic move. Ours is an international business and our brand will soon be big in Europe too," he said.
"Zhang has a global vision — you can see his ambition" said Rupert Hoogewerf, Chairman and Chief Researcher of Hurun Report, a Shanghai-based consultancy focused on China's entrepreneurs.
"He's built a retail ecosystem, and he's already become a big real estate developer. He's built the tallest building in Nanjing, and now he's building a hotel near Shanghai's Bund – if you have ambitions you have to be there," he said. "And it's clear that [China's entrepreneurs] are now going into football because it's on the national agenda."
And Hoogewerf said that Suning's purchase was on a different level from Wang Jianlin's investment in Atletico Madrid, or web giant Alibaba's founder Jack Ma's purchase of a half-stake in China's top club Guangzhou Evergrande.
"Suning buying Milan will up the ante for all the [Chinese] entrepreneurs," he said. "In the past they've bought smaller foreign clubs, or a smaller stake, but Suning are buying one of the big names in European soccer."
China's growing ambitions have also been symbolized by Wanda's agreement in March this year to sponsor the next four FIFA World Cups.
There has been some controversy over Chinese investments in European soccer in the past. One Chinese investor was questioned amid match-fixing claims in Finland, while a Chinese company sparked controversy in Portugal earlier this year when it said that, as part of its sponsorship deal for the country's second-tier league, the top ten teams would each have to have at least one Chinese player.
However Suning has sought to emphasize its seriousness about the sport: last year, soon after the company signed a deal to sell a 20 percent stake to Alibaba for $4.6 billion, it bought Nanjing's top soccer club, now known as Jiangsu Suning. It then signaled its determination to make an impact by breaking the Chinese transfer record twice earlier this year, most recently by outbidding traditional English giants Liverpool to buy coveted Brazilian star Alex Texeira from Shakhtar Donetsk of Ukraine for $56 million.
At Monday's event, the host, a Chinese TV soccer presenter, may have alarmed some in Milan by his suggestion that the club might now be able find a place for some Chinese players. But veteran Chinese soccer commentator Zhang Lu was quick to add that this move would not become a "back door" for Chinese players,saying they would have to improve if they wanted to play in Europe, and would only be able to do so on merit.
And Suning sought to emphasize its respect for Inter Milan's traditions by showing a film at the launch of Chinese soccer fans talking about how they had loved the club for up to two decades. Chairman Zhang also emphasized that the purchase was not only an honor, but "a mission and a responsibility." Suning has said Thohir will remain as president, though Inter's former long-term president Massimo Moratti will sell his stake and leave the club.
However, in a further sign of China's growing ambitions in European soccer, there have been reports that several other Chinese companies are in talks to buy Inter's local rivals AC Milan from former Italian Premier Silvio Berlusconi. Chinese news website The Paper said this raised the prospect of big Chinese companies going head-to-head in the Milan derby at the San Siro stadium, which is shared by the two teams.
© Copyright IBTimes 2023. All rights reserved.