Iowa Rep. Steve King's Week Of Insanity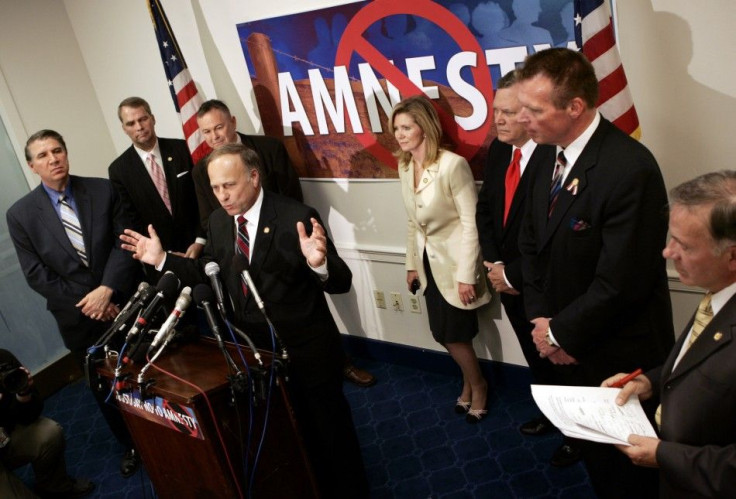 This has been an all-out week of crazy for Rep. Steve King, R-Iowa, who is currently locked in the toughest reelection fight of his political career.
King's Democratic challenger is Christie Vilsack, the wife of former Iowa governor and current U.S. Secretary of Agriculture Tom Vilsack. Perhaps the four-term congressman's nerves have been frayed by the tough race (after all, he and Vilsack are basically neck-in-neck when it comes to fundraising), because this week, the outspoken conservative has not been able to reign himself in.
Monday: ThinkProgress posts a video of a tele-townhall with King where he fields a question about his opposition to animal rights -- he recently proposed legislation that would undermine local standards preventing animal torture -- and then appears to defend the legalization of "animal fights," including dog fighting.
"It's wrong to rate animals above human beings," he told a questioner, before describing the "hypocrisy" of making it a federal crime to watch animal fights while not making it a crime to watch human beings do so.
"When the legislation that passed in the farm bill that says it's a federal crime to watch animals fight or to induce someone else to watch an animal fight but it's not a federal crime to induce somebody to watch people fighting, there's something wrong with the priorities of people that think like that," he said.
While King didn't specifically refer to dog fighting, he has previously defended the practice on record. In 2007, he led an unsuccessful attempt to block legislation that would crack down on dogfighting and cockfighting; this year, he led another failed effort to defeat an amendment to the 2012 Farm Bill that would make it a crime for an adult to bring a child to a dog or cockfight.
Tuesday: The day after the animal fighting comments were publicized, it came out that King also decided to revisit the GOP's favorite criticism of President Barack Obama: that he was not actually born in the United States.
That's right. When King was asked about his views on whether or not the president is actually a natural-born American citizen, he went full-on birther. While the Iowa Congressman noted that his staff has conducted two investigations into the matter -- and even found two separate birth announcements in Hawaii newspapers -- he decided to advance the idea that Obama's parents "might've announced that by telegram from Kenya."
"It would have been awfully hard to fraudulently file the birth notice of Barack Obama being born in Hawaii and get that into our public libraries and that microfiche they keep of all the newspapers published. That doesn't mean there aren't some other explanations on how they might've announced that by telegram from Kenya. The list goes on," King said.
Wednesday: King, after alleging the original ThinkProgress report (which included a video of the tele-townhall) "distorted" his words, went back and defended his comments about animal rights through what can only be described as a bizarre diatribe.
King said he believes we've "crossed a moral line" by "elevating animals up to above that of humans" and then said animals currently have more rights than unborn children.
For instance, King implied that some on the left have devalued life to the point that a man can rape a teenage girl, kidnap her, force her to undergo an abortion across state lines and then "drop her off at the swing set ... and that's not against the law."
The congressman may have forgotten that rape -- in this case, child rape -- kidnapping and forced abortion are crimes that are illegal in the United States. Furthermore, most states also have laws against forced abortion.
Thursday: King decided to go off about something that really sets him off -- ATMs that let the user choose an English or Spanish option.
During a press conference on a bill that would make English the official U.S. language, an effort sponsored by King, the congressman explained the legislation was necessary to unify the nation. When pushing back against charges that such a law is essentially racist, King argued it is not because "the argument that diversity is [America's] strength has never really been backed up by logic."
However, King added that the proposed law would be limited to the federal government because of his "great respect" for the private sector. For example, he said that if it helps a corporation to have an ATM that allows people to select what language they want to use for their bank transactions, then that's their choice.
But, he added, if he knew of an ATM that did not make him choose what language he wanted to use, "I'm likely to stop there first," the Huffington Post reports.
Friday?: We'll have to wait and see.
© Copyright IBTimes 2023. All rights reserved.