iPad Pro Keyboards Wouldn't Require Bluetooth Or Smart Connector
KEY POINTS
Apple could be working on a new technology for the iPad that would no longer require Bluetooth or Smart Connector to work
The technology is revealed on the document filed by Apple at the USPTO
Earlier, leaks claimed that Apple might release a scissor-switch smart keyboard for the iPad
The industry is anticipating the release of next-generation iPad Pro this year. Amid the uncertainties brought by the current COVID-19 outbreak, leaks and rumors associated with the premium tablet have been rife online. We have heard earlier that Apple might launch a smart keyboard for iPad Pro and a new document reveals that it might have a game-changing feature that could simply connect it with the premium tablet.
New iPad Pro Leak
The latest information about the iPad Pro comes from a patent filed by the Cupertino tech juggernaut. The patent titled "Remote Capacitive Interface" was published by the US Patent and Trademark Office on Thursday. It mentions Apple's plan of connecting the keyboard accessory to the display of the iPad.
At present, iPad accessories use Bluetooth or Apple Smart Connector to connect with the tablet. Bluetooth-based accessories are handy, but they are dependent on batteries. Meanwhile, Apple Smart Connector offers convenience, but it also increases the cost of manufacturing. The Apple patent suggests developing an accessory that contact s with the display as part of the iPad's holstering mechanism.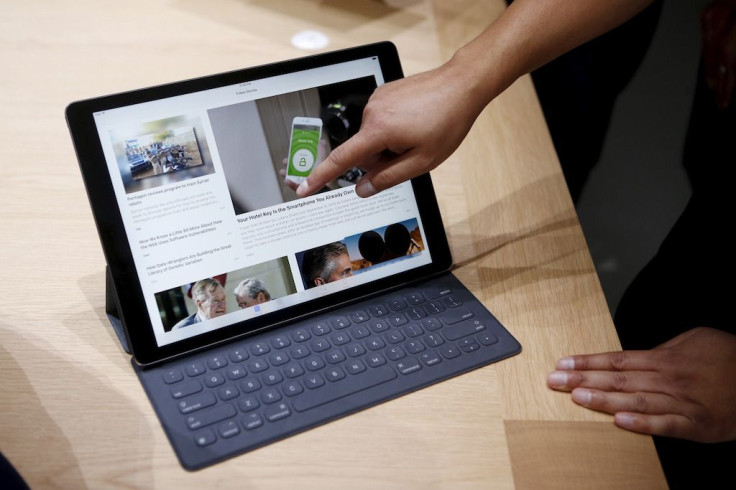 Apple considers a sliding clamp that brings the edge of the display closer with contacts or accessories that touch the iPad screen. There are a lot of details about how this technology would work in the patent filed by Apple. The design provides several benefits compared to the current systems consumers used.
With this potential iPad feature, a compatible accessory could function without the need to extract power from itself since it only creates changes in areas of the capacitative screen. Also, it does not need additional engineering since the mechanics of the device, in theory, could function not only on the iPad but also on any smartphone or tablet that features capacitative displays.
Other iPad Pro Leaks
Earlier this year, a leak surfaced online claiming that Apple could release a scissor-switch style smart keyboard with backlight. A few days ago, another tipster claimed that the smart keyboard for the iPad Pro could feature a trackpad, making it a more fitting tablet to replace laptops. While these details are exciting, it is worth noting that these are not official yet. Take this information with skepticism until Apple finally confirms it.
© Copyright IBTimes 2023. All rights reserved.