iPhone 6 Announcement: As Apple's Big Day Approaches, Nextworth Prepares For Double Normal Trade-In Volume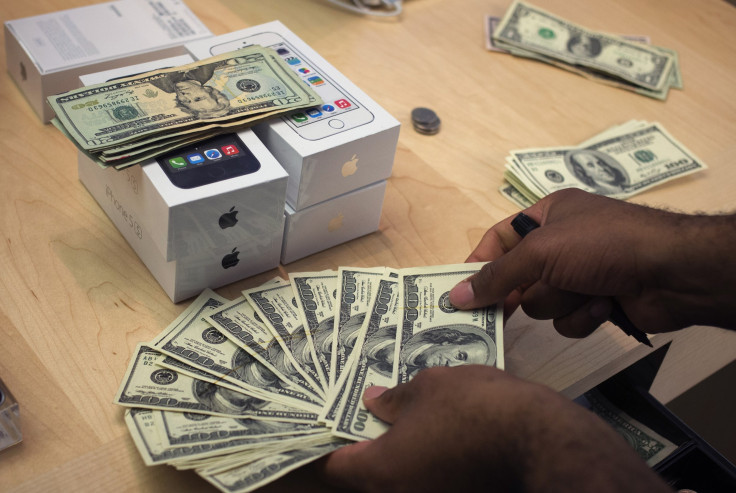 It's crunch time. Apple Inc. (NASDAQ:AAPL) has sent out invitations to its Sept. 9 media event, where the iPhone 6 is expected to be announced, and the device may hit stores around Sept. 19. That means it's showtime for companies in the business of buying second-hand smartphones.
International Business Times spoke with Jeff Trachsell, CMO of the Billerica, Massachusetts-based smartphone trade-in company Nextworth, which is expecting to see double its normal trade-in volume in the coming weeks. Trachsell says the company sees drastic spikes in trade-ins when Apple introduces a new form factor for the iPhone such as the jump from the iPhone 4s to the iPhone 5. Its research shows that many consumers are preparing to purchase the iPhone 6 because it will look much different from the iPhone 5s and iPhone 5c.
As the company prepares for the iPhone busy season it is doubling down on advertising on billboards and search engines, social media, affiliate programs, email and PR. The primary question from consumers is: When is the best time to sell? "The answer is, right now, as soon as possible," Trachsell said. "Phones are always depreciating, but during launches they depreciate faster."
Which is the most popular phone being traded right now?
We have a 30-day quote lock, and assuming that the [iPhone 6] becomes available on Sept. 19, we just passed that 30-day window. Right when we did, our mix shifted. Before that, most of what we got in was 4 and 4s and on that day it flipped and what we're taking in now are 5, 5s and 5c. What that tells us is the people that are getting quotes now are people that are intending to buy the 6. The people that were getting quotes before were probably taking advantage of price discounts on the 5s and 5c.
Which iPhone model is the best to trade in currently?
Don't hold on to your phone for too many generations because you'll basically have no value left in it. We see the two-year sweet spot once people are coming off contract; this year it will be the iPhone 5. That's the one to trade in because you'll get the most value for it.
How can people get the most value for their phone?
It's about locking in that quote right now, rarely do prices increase. You can always get a new quote, but at least you can lock in what at the time was the best price. It's definitely a better practice to lock in sooner rather than later.
What's your competition like?
It's become a bit of a price game. What we encourage is for people to look beyond the quoted price. The risk is always that [another company] tells you 'we'll give you $300 for that Verizon 5s, and Nextworth says only $260, but when they receive it and they inspect it they say it wasn't in the condition that you said and that it's only worth $240. The bigger guys are generally very reputable. But you really do need to be careful and do your research before you take an offer that looks too good to be true.
What we focus on is value and factoring in trust, speed of payment, reputation. Another thing we do to try and minimize downgrades is we'll automatically forgive; if the inspected price is within 10 percent of the quoted price, we'll just go ahead and pay the quoted price. We try to go out of our way to be very upfront, honest and transparent and give people what they expect to get.
Why do certain carrier models price higher than others?
Verizon phones are much easier to sell on the worldwide market because they're much more compatible, whereas AT&T phones, if they're not unlocked they're a lot more difficult to sell. There are definitely value differences between GSM and CDMA phones; CDMA are typically just more open for use worldwide so we can afford to pay a little bit more for them.
One thing that we're doing now is asking people to unlock their AT&T phone and paying a little bit more for that. Because we can sell that unlocked phone for a little bit more we can pass that along to the consumer.
Are there any requirements that consumers should consider before trading an iPhone?
The only one specific to iPhone is the Find My iPhone feature. If someone sends in a phone with Find My iPhone still turned on it's really impossible for us to do anything with it. We'd have to call that person and ask them to turn it off remotely. We make that very clear on the site. We ask that as a question on our calculator and give detailed directions on how to do it. It's not a big issue, just one more step in the process if someone forgets to do it.
What does trading interest look like for other smartphones?
They pale in comparison to iPhone. In the smartphone world, the distant second would be Galaxy. When the Galaxy S5 came out we definitely saw some activity, but Apple has just built this fan base and has gotten on such a consistent upgrade schedule that the combination of a very loyal, dedicated fan base and a very clear expectation on what's going to happen when has just built this behavior that trading has become a part of. It's definitely an Apple phenomenon.
Nextworth powers other trade-in programs, correct?
There are two sides to our business. First, there's what you see at Nextworth.com, it's our direct-to-consumer business. The other side of it is we're a white label trade-in platform. If you walk into a Target and want to trade in your phone you can do that in the store, you're actually doing that through Nextworth even though it's a Target-branded program.
We're kind of a behind-the-scenes engine. We do that for Target, Wireless Zone (a large Verizon dealer network), and Metro PCS in some markets. It's actually a bigger part of our business than what you see on the Nextworth website. It's just much less consumer facing because we do it under the partner's brand.
Let's say I have a phone with a little wear and tear, what can I expect?
The first decision to make is do you want to trade online or do you want to trade in-store because they are very different experiences. In the online world you have the convenience of being able to do it from home, but you do have that uncertainty of – is this a deep scratch or is this a light scratch? You don't have the certainty that you're going to get what you're quoted. You also have some time between when you send in the device and when you get paid, but you also have the flexibility of payment; you can get a check, you can get PayPal, really whatever you want.
In the in-store world you get paid in the spot, you get paid exactly what you were quoted, there's no chance for a downgrade. But you're going to get paid in the store currency; in the case of Target you'll get a Target gift card.
What we've done online is try to simplify the questions and make it very objective. My advice is to be as honest as you can be about the condition of your device and we'll take care of the rest.
FOR FREE to continue reading
✔️ Unlock the full content of International Business Times UK for free
offer available for a limited time only
✔️ Easily manage your Newsletters subscriptions and save your favourite articles
✔️ No payment method required
Already have an account?
Log in
© Copyright IBTimes 2023. All rights reserved.