In Iran, British Foreign Secretary Says Sanctions Could Be Lifted Next Year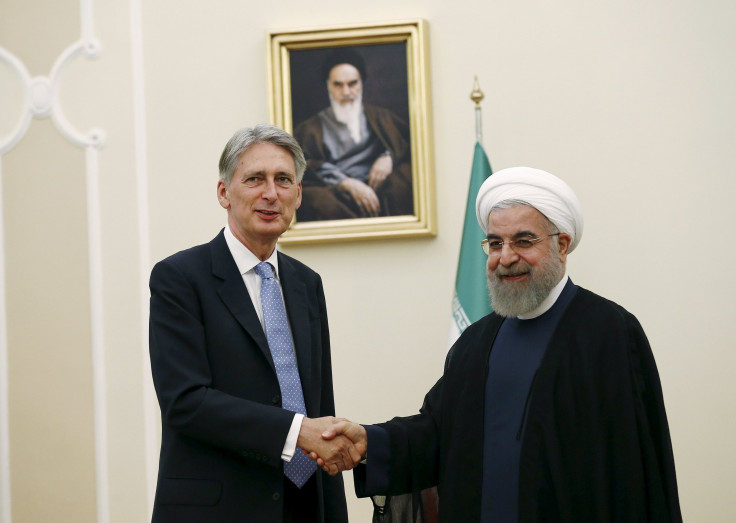 Economic sanctions against Iran might begin to be lifted as early as spring next year, according to British Foreign Secretary Philip Hammond, who held talks with President Hassan Rouhani in Tehran on Monday, Reuters reported. Monday's talks came a day after the British embassy in Tehran -- closed since 2011 after it was stormed by protesters during a demonstration against sanctions -- was reopened.
Despite a "deep legacy of distrust," Iran is "too important a player" to leave in isolation, Hammond told the BBC, adding that the U.K. and Iran needed to work together toward the resolution of several issues, including tackling the rise of the Islamic State group -- a Sunni militant group that considers the Shiite Iran an enemy.
"We are trying to develop cordial relations with what is a very important country in a volatile and difficult region," Hammond, who is the first British foreign secretary to visit Iran since 2003, told the BBC. "We have major areas where we have very substantial policy differences. But that doesn't mean that we shouldn't be talking, that we shouldn't attempt dialogue, that we shouldn't discuss areas where we do see eye to eye.
"We do see eye to eye on the need to interdict the opium traffic between Afghanistan and Europe, we do see eye-to-eye on the need to challenge ISIS."
The thaw in frosty relations between Iran and Western nations began last month after a deal to curb and monitor the country's nuclear program was struck in Vienna. Under the accord, Iran not only agreed to significantly limit its stockpile of enriched uranium, it also agreed to grant international inspectors access to its nuclear sites.
In exchange, the P5+1 -- the U.S., U.K., France, Russia, China and Germany -- agreed to phase out major oil and financial sanctions that have crippled the Middle Eastern nation for decades.
However, despite the agreement on the nuclear program, Iran and the U.K. are not on the same page on several regional issues, including the former's support for Syrian President Bashar Assad, and the Iranian government's vehement rhetoric calling for Israel's destruction.
"We've got to distinguish between revolutionary sloganising and what Iran actually does in the conduct of its foreign policy," Hammond reportedly said, when asked about Iranian policy on Israel. "We've got to, as we do with quite a number of countries, distinguish the internal political consumption rhetoric from the reality of the way they conduct their foreign policy."
© Copyright IBTimes 2023. All rights reserved.