Iran Dismisses Sanctions Ahead Of Nuclear Talks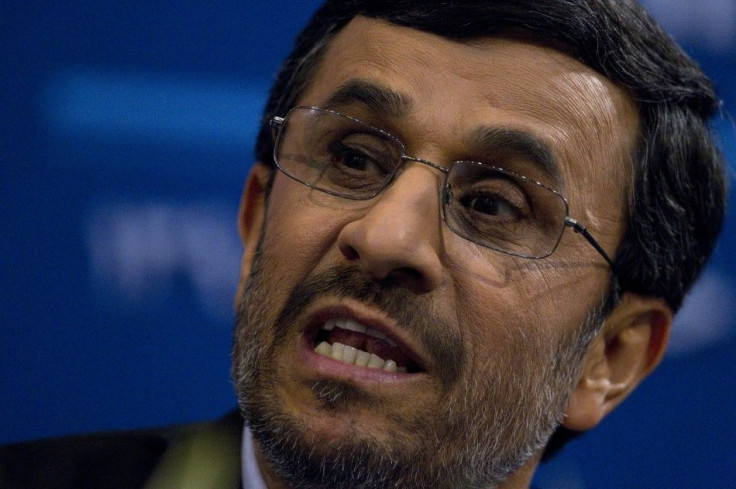 Days before new international negotiations over its nuclear program, Iran is letting world powers know that economic sanctions will have little effect on it in the near future.
On Tuesday, President Mahmoud Ahmadinejad proclaimed that Iran has enough capital reserves to go two to three years without selling oil.
Some people think that they can trouble Iran through oil sanctions, but I should say that we have so much reserves that even if we don't sell oil for two to three years, the country will be administered easily and the enemies will not see their wishes (come true), Ahmadinejad said in a speech in Hormozgan province, adding that any nation that challenged Iran's sovereignty will be dealt a blow to the mouth so bad they will forget the path to their homes.
Petroleum exports account for 85 percent of Iran's government revenues, and the United States is hoping that new sanctions targeting Iran's central bank and its oil industry will pressure the government to stop enriching uranium. Countries like Turkey and Japan are already slashing their oil imports in advance of the sanctions, which will take effect in June, and the measures are President Barack Obama's main bargaining chip for the nuclear talks in Turkey this weekend between Iran and the P5 plus one group -- the five permanent U.N. Security Council members and Germany.
But despite an International Energy Agency report claiming that the sanctions could cut Iran's oil exports by 40 percent, Iran says it's ready for a blockade. On Tuesday, Oil Minister Rostam Qassemi also scorned the sanctions, touting Iran's self-sufficiency and ability to maintain its oil and gas industries without foreign suppliers.
Despite sanctions and threats, we have no problems in upstream oil industries, including production, and therefore we can say today: goodbye sanctions, Qassemi told the Fars news agency.
Fortunately the Iranian industrialists showed that they can do great things and therefore there is no need to the foreign countries, he added.
Iran also seems to be preempting the European Union's total oil embargo, also set to begin in June, by cutting exports to Spain and Greece on Tuesday. Iran's Press TV also said that these counter-sanctions will soon apply to Germany and Italy, and exports to France and the UK have already halted.
The EU is currently Iran's second biggest customer, buying some 500,000 barrels per day last year. However, since the oil ban was approved by European ministers in January, member states have been scrambling to find oil elsewhere. Before being cut off on Tuesday, Spain had already signed a deal with Nigeria and began importing roughly 28,000 barrels per day from the African country at the start of the year.
However, despite Iran's recent actions, the sanctions might already be having an affect. On Monday the head of Iran's Atomic Energy Organization, Fereydoun Abbasi, said in a televised interview that Tehran could eventually stop producing 20 percent enriched uranium for medical research but continue to enrich at 3.5 percent for its nuclear energy program, according to the Associated Press.
Although President Barack Obama said last week that he could accept a civil nuclear program in Iran, it is as yet unclear if the United States or the P5 plus one would be willing to accept the latest offer.
© Copyright IBTimes 2023. All rights reserved.