Iran Execution Rate: Number Of Iran Executions Higher Under President Hassan Rouhani Than Ahmadinejad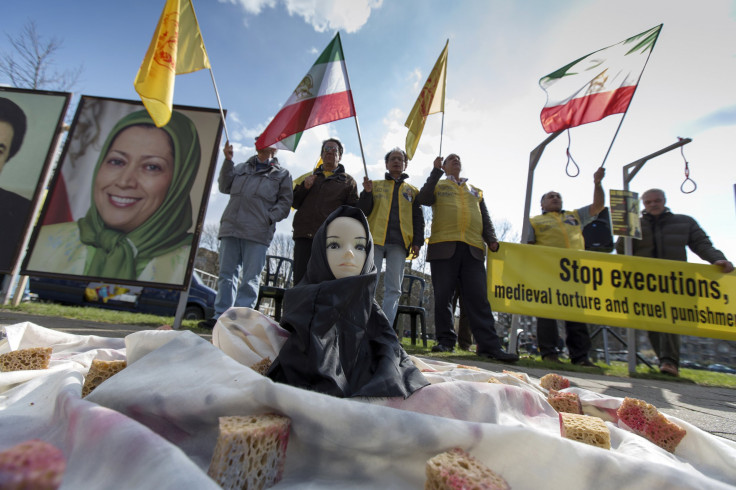 Iranian President Hassan Rouhani promised to fix the country's tarnished human rights record when he took office last August, but Iran has since seen an alarming rise in executions. The latest death by hanging made headlines around the world when Reyhaneh Jabbari was executed for murdering former intelligence officer Morteza Abdolali Sarbandi, who had tried to rape her.
Jabbari's former lawyer accused Iran of torturing her, keeping her in solitary confinement and unfairly sentencing her to death. Mohammad Mostafaei made his accusations at a United Nations panel Thursday, just a day before Iran has to defend its human rights record at the U.N.'s annual Universal Periodic Review (UPR). When the 26-year-old woman was executed Saturday, she became the 586th person to die at the hands of the Iranian government this year.
There have been 70 more executions so far in 2014 than in the same time frame last year. During Rouhani's first year in office, 773 people were executed, compared to 530 people during Mahmoud Ahmadinejad's last year in office, according to data from the Iran Human Rights Documentation Center.
IHRDC aims to document all of Iran's executions using media reports, information from activist groups and official government sources. However, because "the Iranian government does not announce many executions, it is difficult to know the exact number," according to IHRDC. Of the 586 executions reported in 2014, the government announced only 206.
Iranian courts operate under a strict interpretation of Sharia law and the rise in executions could partially be attributed to the new Islamic Penal Code drafted last year, which added several offenses to the list of crimes punishable by death. There are 80 offenses that can result in a death sentence in Iran; they range in severity from murder and human trafficking to "insulting the Prophet Mohammad and other great Prophets," theft, and drug possession, according to a pre-UPR declaration submitted by Iran to the U.N. earlier this month.
Several human rights groups signed a declaration that accused Iran of ignoring nearly all the human rights recommendations it received at last year's UPR. Among the recommendations, the report said Iran has not "ceased all planned executions of juvenile offenders, and to prohibit the imposition of the death penalty for crimes committed by minors." The Iranian government denied this accusation in a report submitted to the UN prior to Friday's review.
The penal code was revised to include "helpful legal concepts such as delayed sentencing, mitigation and waiver of punishment, semi-open prisons, alternative sentencing - especially for punishments, as well as preventative and corrective measures for children and juveniles," according to the report.
IHRDC and monitoring group Human Rights and Democracy for Iran could not confirm if minors had been executed in 2014. However, 11 people who had been sentenced to death when under the age of 18 were executed this year, IHRDC reported.
Among them was Fardin Jafarian, who was 14 years old when he was arrested for allegedly murdering his friend with "no intention and due to carelessness," according to Human Rights Activists News Agency (HRANA). Despite being a minor at the time, he was sentenced to death. Last week Jafarian, now 18, was publicly hanged in front of his victim's family.
Osman Dahmardeh was 17 when he was arrested for "drug trafficking," according to the IHRDC. He was publicly hanged this year during the week of Rouhani's first presidential anniversary. Dahmardeh's mother was reportedly hanged alongside him.
"The execution of a mother and son together is one of the most heinous crimes committed in the past 35 years by the criminals ruling Iran," the National Council of Resistance of Iran said in a statement following the execution.
Iran will have to address these issues at the U.N. Friday. In the meantime, activist groups estimate, the country has at least 2,000 people on death row who could face the same end as Jabbari, Jafarian and Dahmardeh.
© Copyright IBTimes 2022. All rights reserved.
FOLLOW MORE IBT NEWS ON THE BELOW CHANNELS