Iran Flying Drones Over Iraq, Providing 'Substantial' Military Aid, US Says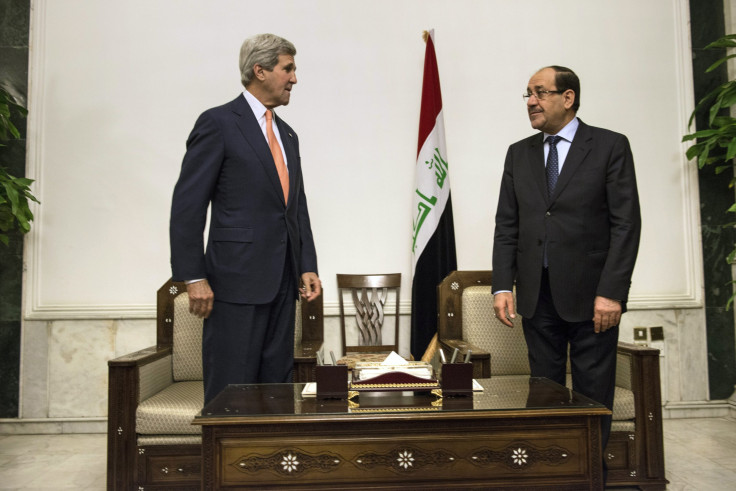 Iranian military personnel have taken control of an airfield in Baghdad and are using it to launch unarmed surveillance drones over Iraq while quietly funneling military equipment, supplies and other aid to the beleaguered government, U.S. officials said Wednesday. The move is part of Iran's attempt to help Prime Minister Nouri Kamal al-Maliki fend off Sunni insurgents from the Islamic State in Iraq and Syria, a goal shared by the U.S. even as it opposes Iran on other fronts.
American officials familiar with the situation told the New York Times Wednesday that Gen. Qassim Suleimani, leader of Iran's paramilitary Quds Force, has crossed the border at least twice recently to help Iraqi military leaders coordinate their strategy to fight off ISIS, which in recent weeks has taken control of large swaths of Iraqi territory, including several major cities.
Approximately a dozen of Suleimani's subordinates have been deployed to lead the training and mobilization of more than 2,000 Iraqi Shiite militia at a time when Iranian transport planes are reportedly hauling 70 tons of equipment to Baghdad twice a day for Iraqi security forces, according to the Times.
"It's a substantial amount," one source said. "It's not necessarily heavy weaponry, but it's not just light arms and ammunition."
While President Barack Obama announced last week that 300 American military advisers will be sent to advise Iraqi forces, the United States says it's not working together with Iran. A Pentagon spokesman told NBC last month the U.S. has "no intentions, no plans to coordinate military activities with Iran."
William J. Burns, the deputy secretary of state, met with an Iranian diplomat last week to discuss the crisis in Iraq amid reports that Tehran's Foreign Ministry is divided over working with the Americans. Suleimani, for instance, is widely reported to be the architect of a plan that trained Iraqi Shiite militias to detonate explosives against U.S. troops stationed there in the last decade.
"Iran has many different power centers, and different elements of Iran are sending different messages and doing different things," one senior State Department official told the Times. "They are definitely extremely interested in what's happening here, to say the least."
Little is known about how extensively Iran has used surveillance drones in the growing conflict. Senior U.S. officials have said American unmanned aerial vehicles have been buzzing over Iraq to gather intelligence on insurgents since at least 2013. The plan was used in a limited capacity before ISIS swept through northern Iraq, an administration official told the Wall Street Journal, but the military brass is now determining whether an increased drone presence would help resolve the situation without having to put troops on the ground.
"They're looking at everything and anything and have been told explicitly by the White House to think outside the box of what is possible," a senior U.S. official said two weeks ago.
© Copyright IBTimes 2023. All rights reserved.