Iran Nuclear Deal Final Vote: McConnell Israel-Iran Amendment Fails As Democrats Slam It As Waste Of Time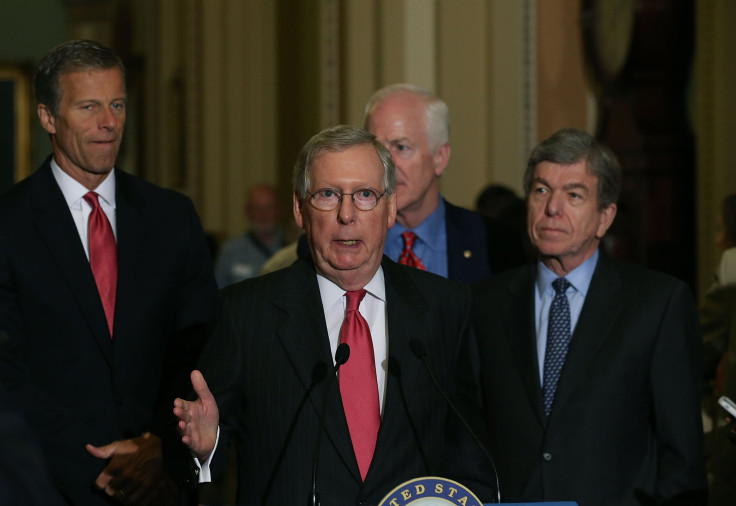 The U.S. Senate voted 56-42 Thursday morning to block an amendment proposed by Republican Mitch McConnell, the Senate majority leader, that would have tied the lifting of sanctions on Iran to Iran's recognition of the state of Israel and the release of American prisoners being held in Iran. It was the final vote of the 60-day Congressional review period, ending Thursday, of the historic nuclear deal, reached in July between Iran and the U.S. as well as five other world powers. The deal would lift crippling global economic sanctions on Iran in exchange for curbs on its nuclear program.
McConnell's amendment, which needed 60 votes to move forward, seemed aimed largely at forcing Democrats to go on the record on matters that could be politically unpopular, rather than actually derail the deal. Under legislation passed in the spring, Congress had 60 days to review the deal. In order to block the Iran accord, both the House of Representatives and Senate would have had to pass a resolution of disapproval before the deadline.
The Senate has already voted twice within the span of a week, both times 56-42, most recently Tuesday, to block a resolution disapproving of the deal. Those votes were considered largely symbolic because even if Congress disapproved, enough senators support the deal to back up a presidential veto to overturn the accord.
Given that support, several legislators have said those votes waste precious time. With the clock ticking on a possible government shutdown later this month, Democrats have blasted Republicans for what they describe as futile efforts to block the Iran accord. A disgruntled Sen. Harry Reid, D-Nev., tweeted Thursday:
He highlighted the countdown Wednesday, too:
Other Democrats similarly voiced their dismay. "At best, it's a colossal waste of time — at worst, it's willfully delaying action on the most basic constitutional function of the Congress: funding the government," Senate Minority Whip Dick Durbin, D-Ill., said Tuesday.
© Copyright IBTimes 2023. All rights reserved.