Iran Deal Vote: Nuclear Accord Poised To Pass As GOP Makes Last-Ditch Effort Ahead Of Deadline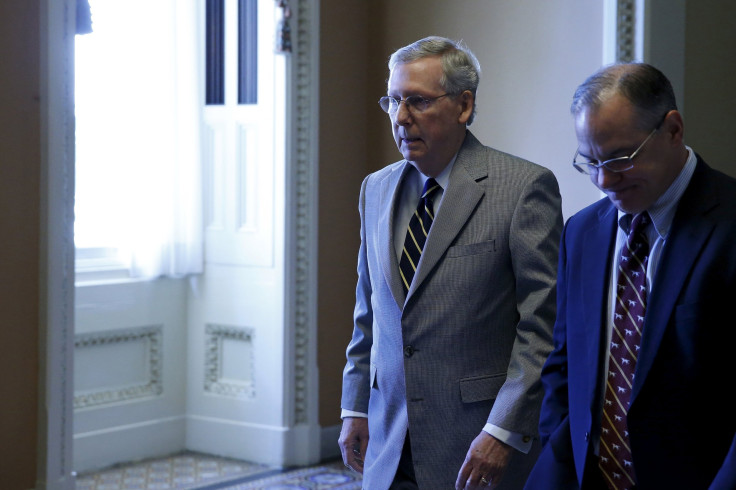 Republicans are making last-ditch -- but largely symbolic -- efforts to prevent an international nuclear deal with Iran from going forward before Congress' Thursday deadline to review and potentially reject the accord. Kentucky Sen. Mitch McConnell, R-Ky., the majority leader, said Tuesday he would file an amendment requiring new conditions for the lifting of sanctions on Iran as part of the nuclear deal. Others have indicated that they could sue President Barack Obama over the deal, even as Republicans admitted a week ago that the accord could not be overturned in Congress.
McConnell's amendment was expected to come up for a vote Thursday, when a 60-day legislated Congressional review period regarding the Iran deal was scheduled to end. The review period allowed for congressional "approval, disapproval or no action on statutory sanctions relief under an agreement." McConnell's proposed amendment would require Iran to recognize Israel and release four Americans being held hostage in Iran in order for sanctions to be lifted.
House Speaker John Boehner, R-Ohio, has also previously threatened to sue Obama on the grounds that the president had failed to turn over the full Iran agreement for Congress to review.
The nuclear deal between Iran, the U.S. and five world powers was reached in July after months of stalled negotiations and would lift crippling international economic sanctions on Iran in exchange for significant reductions in its capacity to develop a nuclear bomb.
The Senate voted Tuesday 56-42 for the second time in a week to block a resolution that would have disapproved of the deal. Those votes were considered largely symbolic because 34 senators, the minimum needed to prevent the Senate from overriding a presidential veto of legislation to block the Iran deal, have indicated their support for the accord. The House voted last week against a measure to approve the deal.
"They essentially had 60 days to play the spoiler," White House Press Secretary Josh Earnest said last Thursday. "Congress' opportunity to play that role will expire next week. And that will be good news, and it will mean the international community can move forward with implementing the agreement."
Thursday is the last day Congress can review the deal, after which Obama can start to lift sanctions on Iran provided that Iran accepts restrictions stipulated in the accord.
Critics of the proposals to block the Iran deal blasted McConnell and other Senate Republicans for wasting dwindling time ahead of a possible government shutdown. "At best, it's a colossal waste of time — at worst, it's willfully delaying action on the most basic constitutional function of the Congress: funding the government," Senate Minority Whip Dick Durbin (D-Ill.) said Tuesday.
Sen. Charles Schumer of New York, a leading Democrat who opposes the deal, expressed a similar exasperation with the vote. "The government is on the edge of shutting down," he said, according to the New York Times.
The American public, meanwhile, remains divided over the deal, an ABC News/Washington Post poll published Wednesday indicated. When provided with no information about the deal, 45 percent of those surveyed favored the deal and 44 percent did not. When survey respondents were given more information, support rose to 51 percent and opposition fell to 41 percent.
© Copyright IBTimes 2023. All rights reserved.