Iran Nuclear Deal: Israel 'Hysteria' Downplayed By John Kerry, US Secretary of State Says Israel Safer With Deal Than Without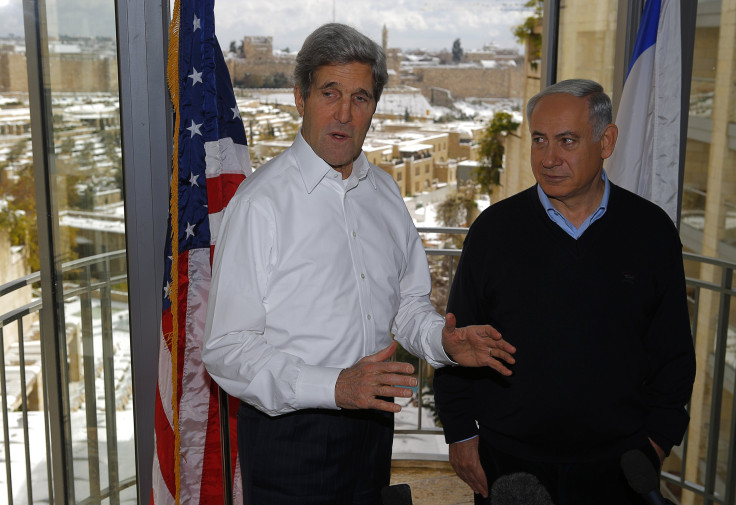 U.S. Secretary of State John Kerry called hysterical much of the criticism of the framework deal on Iran's nuclear program, saying adequate safeguards are in place to prevent Tehran from rapidly developing nuclear weapons. In an interview to be broadcast Sunday evening on Israel's Channel 10, Kerry also criticized Iran's actions throughout the Middle East, citing Tehran's support of Hezbollah and other terror groups, Haaretz reported.
"There's a lot of hysteria about this deal," Kerry said of the agreement worked out between Iran and the so-called P5+1 -- the five permanent members of the UN Security Council (the United States, Britain, Russia, China and France) plus Germany. "People really need to look at the facts, look at the science of what is behind those facts. … We ask people to measure carefully what the agreement is and wait until we have an agreement to make all these judgments."
Discussions on Iran's nuclear program began in 2003, the Arms Control Association notes. The UN Security Council has six resolutions in place related to Iran's nuclear program, demanding that Tehran stop uranium enrichment and reprocessing activities, and imposing sanctions for its refusal. Iran wants the current negotiations to result in an end to the sanctions, which have crippled its economy. A final deal is to be worked out by the end of June.
Kerry said that without the deal, Iran would be within two or three months of putting together enough fissile material for a bomb. A 10-year deal stretches that out to a year and reduces the current 12-ton stockpile by 98 percent, with inspection programs lasting forever.
"Now I ask you a simple question: Is Israel safer with two months or one year?" Kerry challenged.
"I say to every Israeli, today we have the ability to stop them if they decided to move quickly to a bomb, and I absolutely guarantee that in the future we will have the ability to know what they're doing so that we could still stop them if they decided to move to a bomb."
Israeli Prime Minister Benjamin Netanyahu, however, disputed Kerry's assertions, saying the agreement does not remove Iran's nuclear capability. He told the Washington Institute for Near East Policy the world needs a better deal, "one that will actually do the job of blocking Iran's path to the bomb. … I can tell you categorically this deal will endanger Israel -- big-time."
On other issues, Kerry called for Iranian Revolutionary Guards to leave Syria and said Iran must stop supporting "these terrorist activities." On the Israeli-Palestinian conflict, Kerry said he hoped Netanyahu would remain committed to a two-state solution, in part to keep "unfair, biased, bigoted, degrading, inappropriate assaults on Israel's sovereignty and integrity" from bubbling up around the world.
© Copyright IBTimes 2023. All rights reserved.