Iran Nuclear Deal: World Leaders Welcome Landmark 'Implementation Day'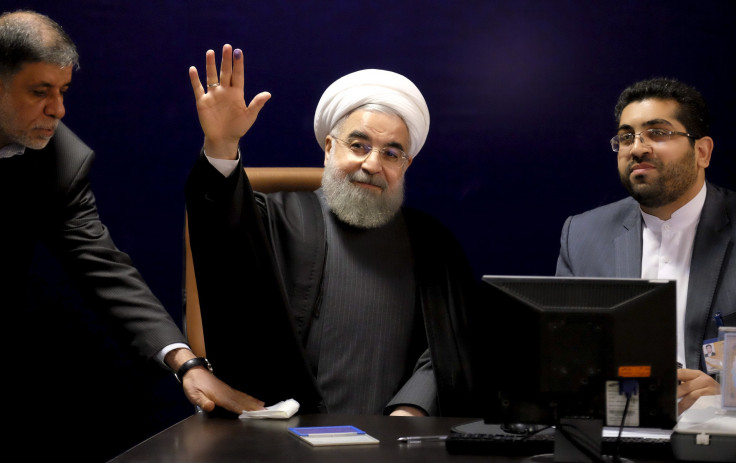 Iran "has opened a new chapter" in its ties with the world, President Hassan Rouhani said, in a statement released Sunday, hours after a raft of international economic sanctions against the country were lifted. Rouhani, who has made finalizing the nuclear deal the key issue of his presidency, also said that the agreement "does not harm any country."
"Iran's friends are happy and its rivals must not be worried. We are not a threat against any government and nation," Rouhani said. "While being fully ready to safeguard Iran's sovereignty, we are the messenger of peace, stability and security in the region and across the world."
Rouhani also said that the move presented an opportunity for Iran's economy to cut its "umbilical cord" to oil, even as many fear that global oil prices — already at record lows — may fall further if Iran raises its supply.
Removal of the sanctions, which will unfreeze billions of dollars of Iranian assets and allow Iran's oil to be sold internationally, was also welcomed by the U.S. and most European nations.
"All sides remain firmly convinced that this historic deal is both strong and fair, and that it meets the requirements of all," European Union foreign policy chief Federica Mogherini said Saturday, in a joint statement with Iranian Foreign Minister Javad Zarif. "Its proper implementation will be a key contribution to improved regional and international peace, stability and security."
Under the nuclear deal, finalized in July, Iran is required to take verifiable steps toward dismantling its alleged nuclear weapons program. The end to the sanctions came after the International Atomic Energy Agency (IAEA) issued a report verifying that Iran had implemented steps that significantly scale back its nuclear infrastructure.
"We welcome that Iran has followed through on the promises that it made. It has kept its word. And we will continue to do the same," U.S. Secretary of State John Kerry said, in a statement. "But we will also remain vigilant in verifying Iran's compliance every hour of every day in the years ahead."
U.N. Secretary-General Ban Ki-moon also welcomed the achievement of the "Implementation Day," and commended "the dedication and determination shown on all sides."
"This achievement demonstrates that international proliferation concerns are best addressed through dialogue and patient diplomacy," Ban said.
While Europe is lifting the majority of its restrictions on trade under the deal, only some of the U.S. economic sanctions against Iran were lifted by the executive order signed by President Barack Obama Saturday. Others, dating back to the '90s, remain, and U.S. firms would still face significant restrictions on how they conduct business with Iran.
"Years of patient and persistent diplomacy, and difficult technical work, have borne fruit as we now implement the deal," British Foreign Secretary Philip Hammond said. "I hope British businesses seize the opportunities available to them through the phased lifting of sanctions on Iran."
The implementation of the deal, negotiated between Iran and six world powers, came as the Shiite nation freed four Iranian-American prisoners, including Washington Post correspondent Jason Rezaian, in a swap with the U.S. In exchange, the Obama administration agreed to release seven Iranian nationals who were either jailed in the U.S. or facing charges.
However, critics of the deal, which include many Republican lawmakers in the U.S., and Israeli Prime Minister Benjamin Netanyahu, argue that it is not enough to prevent Iran from enriching its nuclear weapons facilities. Many have also expressed fears that lifting the economic sanctions, and the ensuing windfall Tehran will receive, will bolster its support for the Bashar Assad regime in Syria and the Lebanese Shiite group Hezbollah.
"Even after signing the nuclear deal, Iran has not relinquished its ambition to obtain nuclear weapons, and continues to act to destabilize the Middle East and spread terror throughout the world while violating its international commitments," Netanyahu said, adding that the international community should continue to closely monitor Tehran's activities.
"As the president himself has acknowledged, Iran is likely to use this cash infusion -- more than $100 billion in total -- to finance terrorists," U.S. House Speaker Paul Ryan, R-Wis., said in a statement. "A bipartisan majority in the House voted to reject this deal in the first place, and we will continue to do everything possible to prevent a nuclear Iran."
Democratic presidential candidate Hillary Clinton, while welcoming the implementation of the deal, called for fresh sanctions on Iran over its ballistic missile tests, which Tehran has consistently denied are designed to carry nuclear warheads.
"Iran is still violating U.N. Security Council resolutions with its ballistic missile program, which should be met with new sanctions designations and firm resolve," Clinton said. "We can't take our eye off the ball."
© Copyright IBTimes 2023. All rights reserved.