Iran Ramps Up Presence In Syria, Deploys Troops As Ceasefire Breaks Down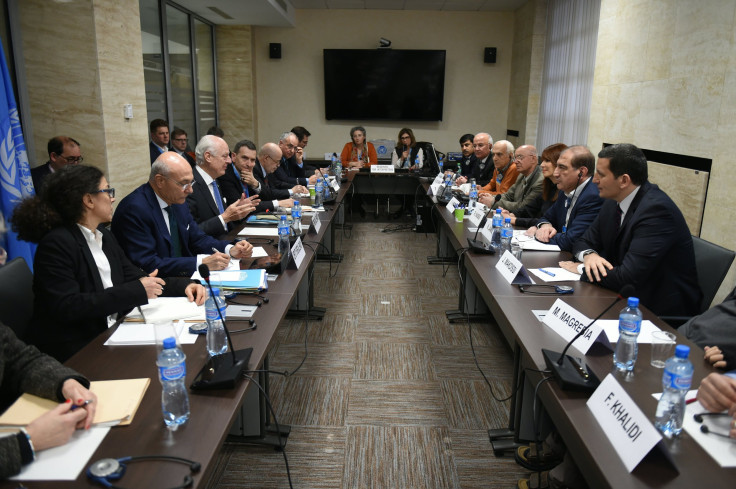 Iran is ramping up its military presence in Syria amid peace talks between the rebels and Syrian President Bashar Assad. Fearing that Russia may side with the U.S. and approve the removal of Assad from power, the Iranian government is now, more than ever, investing in propping up the regime's dwindling army and air force.
"They [the Iranians] saw it as an opportunity to move closer to the regime," one U.S. official told the Financial Times.
Iran has for years had a military presence in Syria. Soldiers from Hezbollah, some stationed in Lebanon, others in Syria's capital of Damascus, have helped the Syrian army fight the rebels. The Iranian Revolutionary Guard Corps, the elite military unit in Iran, has had an increased presence in Syria since the civil war broke out in 2011.
Those same contingents have also fought the Islamic State group, also known as ISIS, in Iraq. But as peace talks resume once again, Russia seems to be more aligned with the U.S. strategy, which is based on the demand that Assad step aside in order for a political transition to move forward.
Russia pulled back a big portion of its military from Syria last month.
"I hope that this will considerably increase the level of trust between all parties of the Syrian settlement and will contribute to a peaceful resolution of the Syrian issue," Russian President Vladimir Putin said in March, at a meeting with his top deputies that was broadcast on Russian state television.
The Russian military pullback announced last month threatens Tehran's position not only in Syria, but in the region. If Assad is ousted, Iranian military presence in the country will be diminished and Iran will no longer dominate the region as it does now.
That's why Iran is deploying more troops to Damascus. Those deployments, though, come at a cost. At least four Iranian soldiers have been killed in one week. Iranian media have reported that more than 150 Guards died in more than a year of fighting in Syria.
The United Nations is amid a new round of peace talks aimed at ending Syria's five-year civil war. The talks started and stalled multiple times in the last five years.
The latest session took place in Geneva on Friday. Syria's U.N. ambassador, Bashar Ja'afari, said he had "constructive and fruitful" discussions with Special Envoy Staffan de Mistura. The Saudi-backed Higher Negotiations Committee, which represents many of the rebel groups in the country, and the Syrian government have submitted proposals to de Mistura on a political transition.
Iranian Maj. Gen. Qassem Soleimani flew to Moscow for talks with Russia's military and political leadership on the situation in Syria, Reuters reported Friday.
The main purpose of his visit was to discuss new delivery routes for shipments of Russian S-300 surface-to-air missile systems. Several sources, though, told Reuters that Soleimani wanted to talk about how Russia and Iran could help the Syrian government regain full control of the city of Aleppo.
© Copyright IBTimes 2023. All rights reserved.
FOLLOW MORE IBT NEWS ON THE BELOW CHANNELS