Iranian Hackers Use Fake Facebook Accounts To Spy On US, Others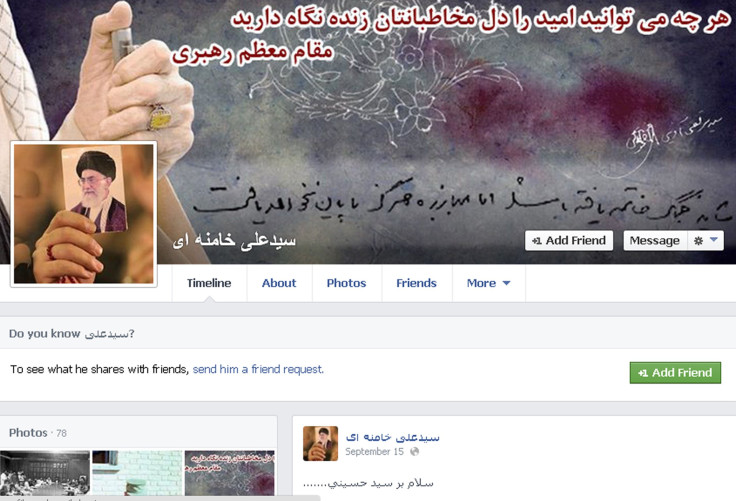 (Reuters) - In an unprecedented, three-year cyber espionage campaign, Iranian hackers created false social networking accounts and a fake news website to spy on military and political leaders in the United States, Israel and other countries, a cyber intelligence firm said on Thursday.
ISight Partners, which uncovered the operation, said the hackers' targets include a four-star U.S. Navy admiral, U.S. lawmakers and ambassadors, members of the U.S.-Israeli lobby, and personnel from Britain, Saudi Arabia, Syria, Iraq and Afghanistan.
The firm declined to identify the victims and said it could not say what data had been stolen by the hackers, who were seeking credentials to access government and corporate networks, as well as infect machines with malicious software.
"If it's been going on for so long, clearly they have had success," iSight Executive Vice President Tiffany Jones told Reuters. The privately held company is based in Dallas, Texas and provides intelligence on cyber threats.
ISight dubbed the operation "Newscaster" because it said the Iranian hackers created six "personas" who appeared to work for a fake news site, NewsOnAir.org, which used content from the Associated Press, BBC, Reuters and other media outlets. The hackers created another eight personas who purported to work for defense contractors and other organizations, iSight said.
The hackers set up false accounts on Facebook and other online social networks for these 14 personas, populated their profiles with fictitious personal content, and then tried to befriend target victims, according to iSight.
The operation has been active since at least 2011, iSight said, noting that it was the most elaborate cyber espionage campaign using "social engineering" that has been uncovered to date from any nation.
To build credibility, the hackers would approach high-value targets by first establishing ties with the victims' friends, classmates, colleagues, relatives and other connections over social networks run by Facebook Inc, Google Inc and its YouTube, LinkedIn Corp and Twitter Inc.
The hackers would initially send the targets content that was not malicious, such as links to news articles on NewsOnAir.org, in a bid to establish trust. Then they would send links that infected PCs with malicious software, or direct targets to web portals that ask for network log-in credentials, iSight said.
The hackers used the 14 personas to make connections with more than 2,000 people, the firm said, adding that it believed the group ultimately targeted several hundred individuals.
"This campaign is not loud. It is low and slow," said Jones. "They want to be stealth. They want to be under the radar."
ISight said it had alerted some victims and social networking sites as well as the U.S. Federal Bureau of Investigation and overseas authorities. An FBI spokeswoman declined to comment.
Facebook Inc spokesman Jay Nancarrow said his company had discovered the hacking group while investigating suspicious friend requests and other activity on its website.
"We removed all of the offending profiles we found to be associated with the fake NewsOnAir organization and we have used this case to further refine our systems that catch fake accounts at various points of interaction on the site and block malware from spreading," Nancarrow said.
LinkedIn spokesman Doug Madey said the site was investigating the report, though none of the 14 fake profiles uncovered by iSight were currently active.
Twitter declined to comment and Google could not immediately be reached for comment.
POST-STUXNET ERA
ISight disclosed its findings as evidence emerges that Iranian hacking groups are becoming increasingly aggressive.
Cybersecurity company FireEye Inc reported earlier this month that a group known as the Ajax Security Team has become the first Iranian hacking group to use custom-built malicious software for espionage.
Iranian hackers stepped up their activity in the wake of the Stuxnet attack on Tehran's nuclear program in 2010. The Stuxnet computer virus is widely believed to have been launched by the United States and Israel.
ISight said it could not ascertain whether the hackers were tied to the government in Tehran, though it believed they were supported by a nation state because of the complexity of the operation.
The firm said NewsOnAir.org was registered in Tehran and likely hosted by an Iranian provider. The Persian term "Parastoo" was used as a password for malware associated with the group, which appeared to work during business hours in Tehran, according to iSight.
Among the 14 false personas were reporters for NewsOnAir, including one with the same name as a Reuters journalist in Washington; six employees who purportedly worked for defense contractors; a systems administrator with the U.S. Navy; and an accountant working for a payment processor.
A spokesman for Thomson Reuters Corp, which owns Reuters, declined to comment.
© Copyright IBTimes 2023. All rights reserved.