Iran's Government Tries To Capitalize On Netanyahu Speech Tensions For Domestic Political Boost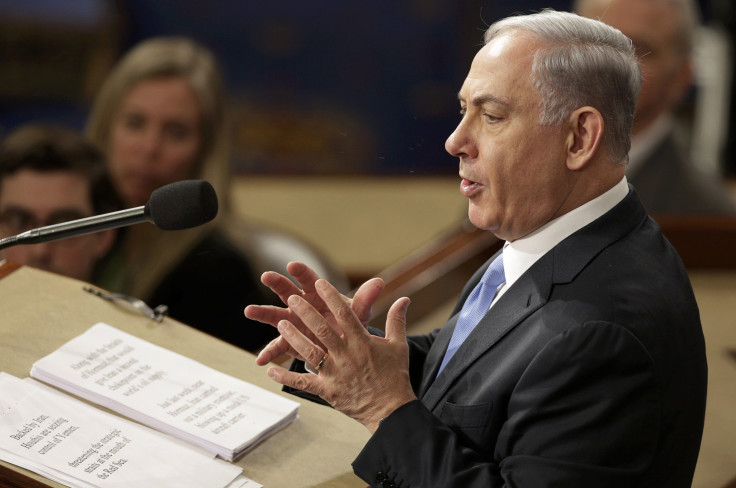 Iran has closely watched the controversy that erupted around Israeli Prime Minister Benjamin Netanyahu's Tuesday speech to Congress, with political factions in the country vying to capitalize on the tensions between Israel's government and the administration of President Barack Obama. While Netanyahu has warned Iran will be more dangerous than ever if the West agrees to a nuclear deal with Iran, the public rifts that have emerged with Washington around his controversial address could actually strengthen the position of the Islamic Republic's more moderate political faction against the hardline clerical establishment, experts said.
In his speech to Congress, the Israeli prime minister warned a proposed agreement between Iran and world powers would pave the way for the Islamic Republic to obtain nuclear weapons, posing an existential risk to Israel. "Iran's regime is as radical as ever," Netanyahu argued. "This regime will always be an enemy of America," he said. Iran rejected those claims later Tuesday, calling Netanyahu's statements "boring and repetitive." Netanyahu has made similar remarks on previous occasions. But his decision to do so in a speech in front of Congress, without prior consultation with the White House, rankled the Obama administration and provoked one of the most public disputes between the two allies in recent years.
Iranian commentators devoted significant coverage to the tension ahead of the Israeli prime minister's speech, with many citing the speech as evidence Israel has become increasingly isolated. This narrative helps bolster the domestic position of President Hassan Rouhani and his "realist" political allies, said Ali Alfoneh, a senior fellow at the Foundation for Defense of Democracies in Washington. "Rouhani and his cabinet are trying to take advantage of the differences between the U.S. and Israel to make the argument to the Iranian public that their statecraft has worked," he said. "They'll argue, 'We managed to alienate the Israelis and Americans from each other. We managed to break the consensus between the U.S. and its allies against Iran."
Since the moderate leader's election in 2013, Rouhani has attempted to make good on his campaign promises and set a new course to end Iran's decades-old diplomatic isolation and damaging economic sanctions through nuclear negotiations with the West. The ongoing talks between Iran and the U.S., Britain, France, China, Russia and Germany, known as the P5+1, have centered on the Islamic Republic's ability to develop nuclear weapons and oversight to prevent such an outcome. This effort has been staunchly opposed by the country's strict security establishment, led by the elite Revolutionary Guard force, as well as the powerful Shiite clerical class under Supreme Leader Ayatollah Ali Khamenei.
The possibility of a successful nuclear agreement would mark one of the most significant diplomatic breakthroughs in the Middle East in decades, an achievement Rouhani has been eager to realize. However, the leader has had to contend with serious resistance from hardliners, whom he recently accused of "cheering on" Iran's opponents during the grueling talks, Reuters reported. While Khamenei has publicly backed the talks, he has nonetheless continued to voice anti-U.S. rhetoric while denouncing Iran's foreign "enemies."
"There is a serious internal debate in Iran about nuclear negotiations," said Ilan Goldenberg, the director of the Middle East security program at the Center for a New American Security in Washington. He argued that should a deal be ratified, Rouhani's faction would be strengthened, increasing the possibility of a more pragmatic, moderate Iranian leadership prevailing politically in the future. A 2013 Gallup poll found more than 85 percent of Iranians said international sanctions had hurt their livelihoods while past surveys found significant majorities favoring closer relations with the West as a means of solving the country's problems.
Netanyahu would beg to differ, however. He said in his speech Iran and the Islamic State militant group, also known as ISIS, share the same goals. "Don't be fooled. The battle between Iran and ISIS doesn't turn Iran into a friend of America. Iran and ISIS are competing for the crown of militant Islam," he said, arguing Iran's current military efforts against the jihadist group should not be mistaken as a sign of friendship by the U.S. While Iran is not part of the U.S.-led coalition currently battling ISIS in Iraq and Syria, the country has led its own efforts against the Sunni extremist fighters, with top Revolutionary Guard commander Maj. Gen. Ghasem Soleimani said to be leading the ongoing offensive on the Iraqi ISIS stronghold of Tikrit.
Netanyahu's comments will not matter to the Iranian government, which is instead a lot more interested in Washington's response to them, Goldenberg said. "I don't think the U.S. or the P5+1 are going to let this affect negotiating positions," he said.
Indeed, Rouhani's government will continue to press its case on nuclear negotiations alongside a broader argument about Iran's strategic importance to the international community, particularly where the fight against ISIS is concerned, Alfoneh said. "They're trying to argue to the U.S., that if they want to defeat the Islamic State, they'll need Iran's help."
FOR FREE to continue reading
✔️ Unlock the full content of International Business Times UK for free
offer available for a limited time only
✔️ Easily manage your Newsletters subscriptions and save your favourite articles
✔️ No payment method required
Already have an account?
Log in
© Copyright IBTimes 2023. All rights reserved.