Iraq Formulates Plan To Deal With Families Of ISIS Members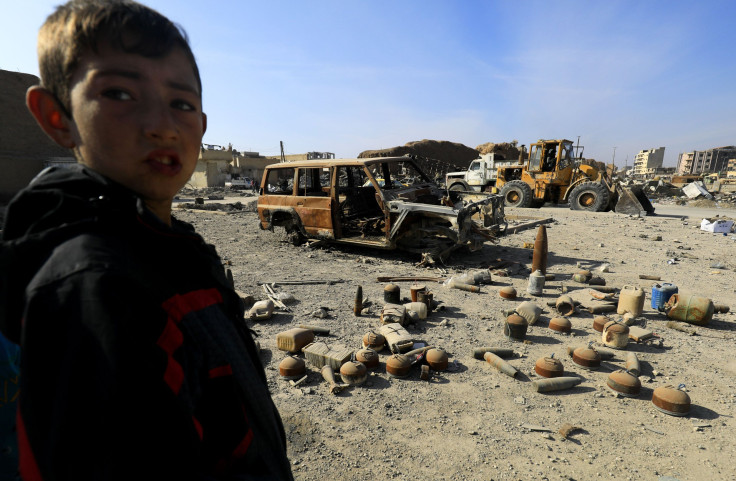 Authorities in Iraq have formulated a plan to deal with the foreign wives and children of the members of the Islamic State in a bid to balance the security concerns with international laws.
According to a report by Fox News, Shia al-Sudani, the Iraqi minister of Labor and Social Affairs who is in charge of the issue of childcare said, "We are holding 500 wives of ISIS — all foreigners — and their children, which makes 1,500 total."
"And some of the ISIS wives are pregnant," added al-Sudani.
Sudani also said there were "many communications through our ministry and the court system" with regard to what can be done with the children of the caliphate members after their Mosul stronghold was destroyed in July.
An order by authorities in Iraq said children aged three years and below will stay with their mothers in detention centers. Children from the age group of 4 to 14 will stay in government orphanages till the time agreements are reached between the particular embassies after which the children could be "handed off" to their home nations.
In order to keep these children in state orphanages, an amendment had to be made to a 1980 law which was made under former leader of the country, Saddam Hussein. The law stated that minors of Iraqi or Palestinian origin would be allowed in the state orphanages. The authorities now are dealing with children who belong to 20 different countries, the report said.
Sudani said, "We deal with the kids as victims. They had no fault in what happened."
"They will be taken care of and not blamed. And we have prepared an integrated program to de-radicalize the kids away from the extremist mindset and ideology," he added.
However, the foreign wives of the ISIS members will be tried in Iraqi courts and not in their home countries in order to understand their level of involvement in the caliphate's cause.
"They will be given a fair trial in the court system," said al-Sudani.
Human rights communities are worried about what awaits the adolescent males above the age of 14, held away from their mothers in numerous facilities in Iraq. According to Iraqi officials, they comply with the international laws when it came to detaining these children.
"Dr. Homer Venters, the director of programs of Physicians for Humans Rights, a U.S. based non-profit human rights NGO, said, "We are concerned that torture may be utilized in coercing confessions from these adolescents."
"Captured children forced into fighting with ISIS are also victims of human rights violations, including physical and mental trauma and should be treated as such," added Venters.
According to a source from Baghdad who requested anonymity as he wasn't permitted to talk to the media, said the issue of children was a complicated one, as in many of the cases the father's identity was unknown. For those children whose nationalities were already verified, unresolved diplomatic issues were a hurdle.
The source said, "Baghdad is in the process of negotiating with their countries of origin to have most of them repatriated, but there is a lot of resistance."
"Most of these countries simply don't want them back," the source added.
According to al-Sudani, the wives and children were kept in a camp in al-Rusafa, where they remained separated from non-ISIS families.
The report further stated that apart from the 1,500 ISIS wives and families, there were more than 7,000 foreign ISIS male members who were detained in Iraq, waiting for their trial; and more than 90 members were executed because of their involvement with the caliphate.
Tuva Raanes Bogsnes, a spokeswoman for The Norwegian Refugee Council, said, "It is critical to remember that, even when someone is proven to be a member of a terrorist organization, their family members are not guilty by association."
© Copyright IBTimes 2023. All rights reserved.