Iraqi Government Issues Arrest Warrant for Sunni VP, Deepening Sectarian Crisis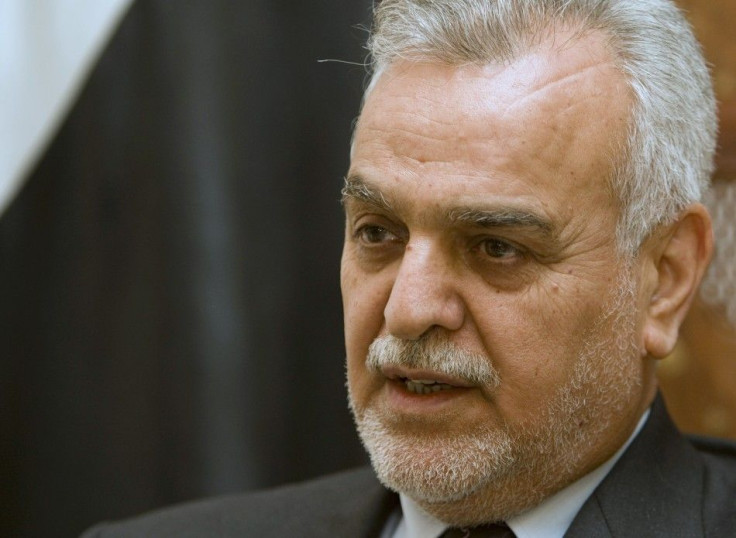 On the day after U.S. troops departed Iraq after nine years of war, an arrest warrant has been issued by the government for its vice president Tareq al-Hashimi, the highest-ranking Sunni Muslim official in a country dominated by Shias, according to reports.
Major General Adil Daham, spokesman for Iraq's interior ministry, told media that the warrant was related to alleged confessions by "terrorists" somehow connected to Hashimi.
BBC reported that Hashimi has been banned from leaving Iraq and is apparently holed up somewhere in the Kurdish north.
Al Jazeera reported that the arrest symbolizes rising sectarian tensions in Iraq.
Hashimi was among the leaders of a Sunni-dominated, but secular, political party called al-Iraqiya, which recently stopped participating in parliament in order to protest Prime Minister Nouri al-Maliki's moved to gain more control of key government offices.
Maliki is a member of the Shia majority.
On Sunday night, Maliki asked parliament to enact a 'no confidence' vote against Saleh al-Mutlaq, a Sunni deputy prime minister and also a prominent member of the Iraqiya bloc.
A Shia politician named Amir al-Kinani told Al Jazeera: The prime minister told us that he cannot work with Mutlaq any more.... If this will affect the work and the performance of the cabinet then we will be with him."
Another member of Iraqiya, Ahmed al-Alwani, told Reuters that Maliki is conducting a kind of purge against his opponents, particularly against the besieged Sunni minority.
There must be a way of dealing with these issues, without replacing the celebration of the U.S. withdrawal with the politicization of security matters to target political rivals, he said.
Omar al-Saleh, an Al Jazeera correspondent in Baghdad, commented: The government says this [arrest] has nothing to do with the U.S. withdrawal, that this has nothing to do with the prime minister consolidating his grip on power. However, members of al-Iraqiya bloc, which Hashimi is a member of, say 'No, [Maliki] is trying to be a dictator'.
Sunni Iraqis has long complained that the Shia establishment is seeking to block them from meaningful political jobs.
Meanwhile, the fragile coalition government which comprises both Shias and Sunnis appears to be a great risk. In the event Sunnis walk out en masse from parliament, another political crisis would erupt.
Indeed, Massoud Barzani, the president of Iraq's semi- autonomous Kurdish region, has called for urgent negotiations to prevent the collapse of the national unity government, adding that the situation is headed towards deep crisis.
© Copyright IBTimes 2023. All rights reserved.
FOLLOW MORE IBT NEWS ON THE BELOW CHANNELS