Iraqi Military And Militias Begin Offensive Against Islamic State Near Baghdad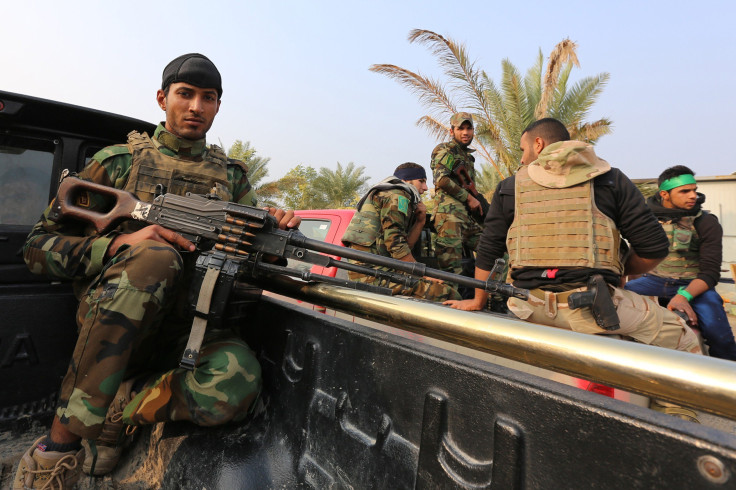 The Iraqi military and Shiite militias launched a counteroffensive against the Islamic State group in a region north of Baghdad Sunday, said Iraqi Prime Minister Haider al-Abadi, according to Al Jazeera. The Salahuddin province was lost to Islamic State extremists not long after fighting began in June.
"The prime minister and armed forces chief ... announce the start of the security campaign to liberate Salahuddin," a statement from the office of the prime minister said as Abadi met military leaders in the region where thousands of troops are preparing to attack.
The long anticipated push to regain the territory comes eight months after a U.S.-led coalition began airstrikes against the terror group and a day after suicide bombers blew themselves up near an Iraqi military camp in the region. Officials said the bombers were trying to disrupt the army's preparations.
During a television broadcast, Abadi said the group would be pushed out of the region and supporters of the group had one last chance to turn themselves in. "I call upon all those who have been deluded and made mistakes in [the] past to lay down arms today," he said. "This is their last chance. If they insist on staying on their wrong path they will receive the fair punishment they deserve because they ... stood with terrorism."
Thousands of fighters from Shiite militias, also known as Hashid Shaabi, will join the Iraqi military in the offensive. The Iraqi military have failed a number of times to regain the region in the past.
After months of coalition airstrikes, backed by Kurdish peshmerga fighters, Shiite militias and the Iraqi army, the Islamic State group was pushed back from Baghdad and contained in the Salahuddin regions. Despite this, the group has managed to retain control of much of that territory and also took the western province of Anbar.
Fighting in that region, which saw 800 Iraqi soldiers take on an unknown number of Islamic State fighters, has demonstrated the terror group's unwillingness to depart from the area, Reuters reported. Nearly two weeks after launching the campaign to regain the Anbar province, the army has only managed to take a handful of villages near the Euphrates River.
© Copyright IBTimes 2023. All rights reserved.