Iraq's Order Of F-16 Fighter Jets Delayed As Russia Steps In With Better Alternative To Fight ISIS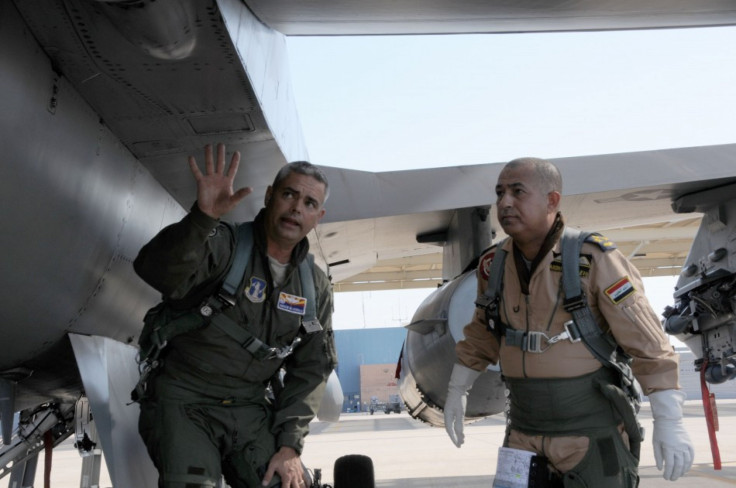 As Russia scrambles to supply Iraq with fighter jets to counter a Sunni extremist revolt, the U.S. delivery of F-16s to Iraq will be further delayed by the evacuation of contractors from Iraq, the Pentagon said Monday.
Iraqi leaders have accused the U.S. of purposely stalling the delivery, worth $4.2 billion, since Russia has managed to fulfill its promises more quickly, but a military analyst has questioned the wisdom of using the SU-25 and the F-16 to combat the Islamic State extremists in the first place.
"They are useful, but they are not going to turn the tide," Austin Long, an assistant professor at Columbia's School of International and Public Affairs, said of the fighter jets.
Long said the Russian SU-25 is better equipped to attack ground forces than the F-16 due to its slow speed and ability to hover low over the battlefield, making it far more accurate and less likely to fire on friendly forces or hit civilians, according to a Jane's weekly digest June 29 report.
While low flying does make it a target, the SU-25 is heavily armored and equipped with chaffs and flares to divert surface-to-air missiles. The F-16, on the other hand, though billed as a multi-role fighter, is much faster but less accurate, therefore less suitable in the current crisis, according to Jane's report.
"The biggest thing that U.S. air power helps with in a major combat situation is, it prevents enemy groups from massing forces," Long told International Business Times. "When you put together a lot of fighters it becomes an easily detectable target."
Long predicts the extremist Islamic State of Iraq and Syria will have to mass at some point to continue an effective offensive in Iraq. And when it does, fighter jets that are capable of effective bombing will be of greater value, he said. But should ISIS stay in the cities, among the civilian population, aircraft support will be difficult.
"You worry about collateral damage, but if it is an entire convoy of pickup trucks you have an ability to cut loose if there is anything else around," Long said.
The U.S. delivery of 36 F-16s was scheduled prior to the ISIS offensive, and was not expected to be in service until the fall of this year. Though delivery of the Lockheed-Martin (NYSE:LMT) aircraft has ostensibly been expedited, volatile conditions on the ground in Iraq have posed setbacks, according to Col. Steve Warren, spokesman for the plane. The reason? The contractors who must train the Iraqi air force have been evacuated.
"We are committed to delivering the aircraft to Iraq as quickly as possible," Pentagon press secretary Bill Speaks told IBT. "The delivery of the first two F-16 aircraft had long been scheduled for this fall pending final preparations for housing and securing the aircraft, completion of pilot training, and completion of required financial and administrative details, which the Iraqi government has been slow to complete."
In contrast to the U.S. delays, Russia has reacted quickly to supply Iraq with air support.
"They are coming very fast," Gen. Anwar Hama Ameen said in a telephone interview with the New York Times on Sunday, "because we need them in this conflict against the terrorists as soon as possible." Ameen also said Russian forces would leave the country after the aircraft was operational.
One reason Russia was able to react more quickly to supply aircraft is that Iraq has a long relationship with the SU-25, having used it extensively during the Iran-Iraq war in the 1980s, meaning the Russians are able to make a much quicker handover to the Iraqi air force than the U.S., with less training necessary.
"We have pilots who have long experience in this plane, and of course we have the help of the Russian friends and the experts who came with these aircraft to prepare them," Ameen said. "This will produce a very strong punishment against the terrorists in the coming days."
The New York Times has also reported that Iran could return aircraft that Saddam Hussein hid in that country to avoid destruction by U.S. forces in the first Gulf war. Those included 80 Russian jets and 24 French F-1 Mirage fighters.
FOR FREE to continue reading
✔️ Unlock the full content of International Business Times UK for free
offer available for a limited time only
✔️ Easily manage your Newsletters subscriptions and save your favourite articles
✔️ No payment method required
Already have an account?
Log in
© Copyright IBTimes 2023. All rights reserved.