Ireland's Main Political Parties Warily Eye 'Grand Coalition' In Wake Of Inconclusive Election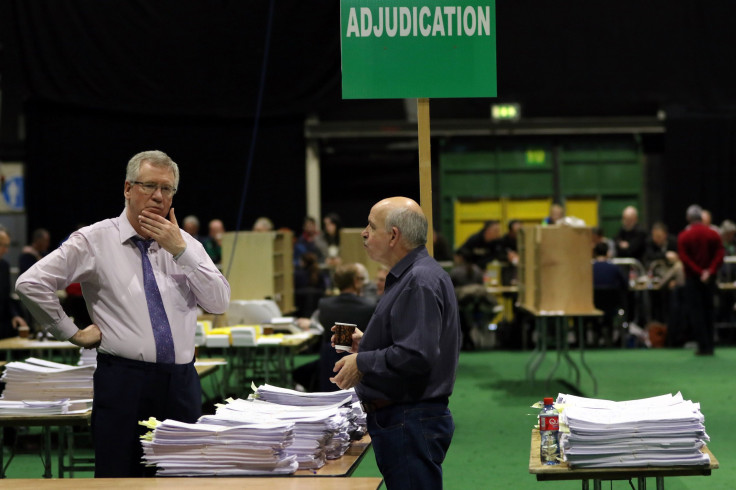 Irish lawmakers will gather Thursday in the Dail, the country's parliament, to elect the new prime minister, known as the Taoiseach, following last month's general election. But it's a vote that no one is likely to win.
In its general election last month, no party managed to secure the 79 or more Dail seats that are needed to form a majority in the 158-member assembly. Fine Gael, the party that had led the previous coalition government, remained the largest party in the state, but its coalition partner, the Labour Party, lost 26 of its 37 seats.
As a result, no new government can be formed and no new head of government can be chosen. The incumbent Taoiseach, Enda Kenny, admitted that "the indications are that nobody will be elected as Taoiseach on Thursday." So what will Ireland's next government look like, and when will it materialize?
There are three main forms that the next Irish government is likely to take: a minority government, led by one of the two main parties, Fine Gael or Fianna Fáil; a grand coalition, where the two main parties — historical enemies — would join forces, or another general election.
After weeks of talks between the two main parties and smaller groups and independent lawmakers, it seems clear that neither party can muster the numbers required to assemble a minority coalition. Sinn Fein, the third-largest party in the state, with close ties to the Irish Republican Army, has refused to enter into a coalition with either party, both of whom have also previously said they would refuse any coalition with it.
Of these options, a grand coalition appears to be emerging as the most likely possibility, but not one that would bring much stability.
"It's going to be very difficult," Kathryn Simpson, a research associate in politics at the University of Manchester, told International Business Times.
"A grand coalition isn't unprecedented in Ireland — it did happen in the 1980s. But what you do find is that even when it does happen, it's normally a weak government, and it's rare that the government lasts its full term. So we could be looking, if there is a grand coalition between Fianna Fáil and Fine Gael, at an early general election — perhaps within the next two-three years," she added.
Another problem that may stand in the way of such a coalition is the attitudes of rank-and-file lawmakers in both parties, who are vehemently opposed to working with their counterparts on ideological grounds, even though both parties are center-right. Hostilities dating back to the civil war, up to Ireland's previous general election at the height of the financial crisis, will make it hard for the main parties to work together.
"The blunt truth about [Fianna Fáil leader Michael ]Martin's position is that even if he did want to cut a deal for a grand coalition, he could not currently get such an arrangement through his parliamentary party," journalist Pat Leahy wrote in the Irish Times. "Sources at all levels of Fianna Fáil are absolutely adamant on this."
Fine Gael lawmakers seem to be similarly disposed. "We will work in a progressive manner toward the formation of a new government, but not at any cost," Charlie Flanagan, a member of Fine Gael and minister for foreign affairs, said in a statement last week. "It is critical that any government formed is a lasting one. Stability is key at this point in the country's recovery. Forming an unstable government is not in the people's interest."
In the near term, even if a grand coalition deal can be struck, Ireland is expected to be without a government for weeks. The Taoiseach and several other key players will be on a traditional visit to the U.S. for Saint Patrick's Day next week, meaning negotiations could drag on. Former Taoiseach Bertie Ahern said there is "no way" that this will be resolved before Easter.
Whatever the outcome, this year's Irish election has demonstrated a new disillusionment with the establishment parties among a sizable portion of the electorate.
"For the first time in the history of the state you have both Fine Gael and Fianna Fáil [with a] combined vote share of less than 50 percent — that has never happened before," Simpson said. "So the public are really wanting to look for a move away from that center-right politics," she added.
FOR FREE to continue reading
✔️ Unlock the full content of International Business Times UK for free
offer available for a limited time only
✔️ Easily manage your Newsletters subscriptions and save your favourite articles
✔️ No payment method required
Already have an account? Log in
© Copyright IBTimes 2023. All rights reserved.