Isaac Veering Away From Tampa; New Orleans Could Be Target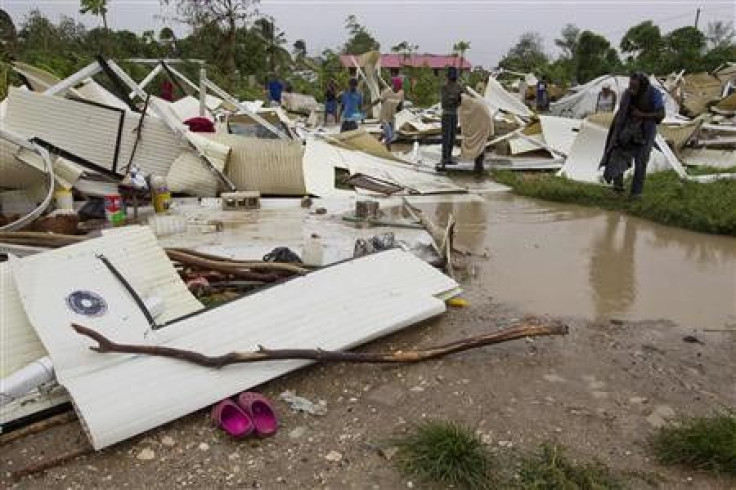 Tropical Storm Isaac approached hurricane strength as descended on the Florida Keys Sunday, but its course appeared to veering away from Tampa, site of the Republican National Convention, and toward the northern Gulf Coast.
The storm's latest track puts more than $36 billion in Gulf Coast residential property at risk of flooding from storm surges, with southeastern Louisiana at greatest peril of huge losses, residential data analysis company CoreLogic said on Sunday.
Some of the computer models used by meteorologists put Isaac on a more westerly track, though, bringing it directly into or just west of New Orleans.
Isaac is expected to strengthen to a Category 2 hurricane and hit the Gulf Coast somewhere between Florida and Louisiana at midweek - on or near the seventh anniversary of Hurricane Katrina - the U.S. National Hurricane Center in Miami said in an advisory. A hurricane watch was extended westward to include New Orleans.
At 2 p.m. EDT, Isaac was at 23.9 degrees north and 81.5 degrees west -- about 50 miles south-southeast of Key West and 75 miles northeast of Havana -- and was moving west-northwest at 18 mph with 60 mph maximum sustained winds, the National Hurricane Center said.
Isaac drew new power Sunday morning as it crossed the warm water of the Florida Straits after causing havoc in Cuba, the Dominican Republic and Haiti, CBS reported.
The U.S. National Hurricane Center said Isaac had started lashing the Keys with rain and wind by late morning.
On Key West, locals took familiar preparedness measures and hunkered down for a lashing Sunday.
The storm left six dead in Haiti, still recovering from the 2010 earthquake, and at least three missing in the Dominican Republic after battering their shared island of Hispaniola on Saturday, Reuters reported.
No deaths or injuries had been reported in Cuba, which got off lightly when the storm crossed its eastern flank instead of raking up the length of the island as originally predicted.
"Currently Isaac is a tropical storm that's expected to become a hurricane as it reaches Key West ... then it will move into the Gulf of Mexico and is expected to strengthen," meteorologist Jessica Schauer of the National Hurricane Center in Miami told CBS.
"Our forecast is that as the system moves northward it is forecast to strengthen to a Category 2," she said, adding an eventual landfall is expected on the northern Gulf Coast. "Definitely the northern Gulf Coast should be preparing for a hurricane right now."
A storm becomes a hurricane when sustained winds reach a minimum of 74 miles per hour. A Category 2 hurricane is capable of top sustained winds of 96 to 100 mph. Schauer said Isaac could make a landfall on the northern Gulf Coast late Tuesday night or early Wednesday morning.
A hurricane watch has been issued for parts of the northern Gulf Coast, from the mouth of the Mississippi River eastward to Indian Pass, Fla., including metropolitan New Orleans. A hurricane watch remains in effect for Florida's east coast from Golden Beach southward to Ocean Reef.
A hurricane warning is in effect for the Florida Keys including the Dry Tortugas, the west coast of Florida from Bonita Beach southward to Ocean Reef, and Florida Bay.
The tropical storm warning has been extended northward and westward along Florida's west coast and Panhandle to Indian Pass.
A tropical storm warning is in effect for parts of Cuba and the Bahamas, Lake Okeechobee, and Florida's west coast and Panhandle from north of Bonita Beach to Indian Pass, including Tampa Bay.
At both Fort Lauderdale and Miami International airports, scores of inbound and outbound flights were canceled, NBC reported.
In Tampa, the Sunday night performance of Lynyrd Skynyrd at the American Action Network Pavilion at Liberty Plaza was canceled for the safety of the audience.
Energy producers in the Gulf of Mexico were shutting down offshore production. The storm could force a short-term shut-down of 43 percent of U.S. offshore oil capacity and 38 percent of its natural gas output, according to forecasters at Weather Insight, an arm of Thomson Reuters.
The Republican Party, gathering in Tampa to nominate Mitt Romney for president, will convene their four-day meeting on Monday as scheduled, then recess until Tuesday.
Republicans promised to release an updated schedule for the convention Sunday, one day after canceling Monday's opening session. That announcement came hours after Florida Gov. Rick Scott declared a state of emergency, which he called a "normal step" in disaster preparations.
Party Chairman Reince Priebus insisted the convention would go ahead as scheduled, albeit a day late.
The Cuban Meteorological Institute warned the storm could do more damage to the island because it was expected to run near and parallel to the northern coast all the way into the Florida Straits, which separate the U.S. and Cuba.
Radar showed most of Isaac's powerful rainstorms were north of the island, but eastern Cuba, hit hard on Saturday, was still getting downpours that dropped more than three inches of rain in three hours.
As the storm moved closer to Havana, wind gusts and driving rains intermittently hit the city.
Baracoa, the island's easternmost city, appeared to get the worst of the storm, which sent 13-foot waves crashing over the seawall and into the streets. Cuban TV reports said more than a thousand people had to be evacuated and 50 buildings were damaged.
n Haiti, Isaac added to the misery of more than 350,000 survivors of the 2010 earthquake still living in flimsy resettlement camps as water gushed into tents and corrugated plastic shacks ripped apart by the wind.
Authorities said six people were known dead, including a 10-year-old girl killed when a wall fell on her and a woman crushed to death by a falling tree.
Many main roads were blocked or impassable and 14,000 people had been evacuated to shelters, they said.
In the Dominican Republic, officials said three people were missing, including the mayor of a town near Santo Domingo swept away as he tried to save another person from a flooded river.
They said 764 homes had been damaged by the storm and more than 9,600 people evacuated from storm-struck areas.
© Copyright IBTimes 2023. All rights reserved.
FOLLOW MORE IBT NEWS ON THE BELOW CHANNELS