ISIS, AKA Islamic State, Warns Of Sleeper Cell Attacks On U.S. Interests In Retaliation For Bombings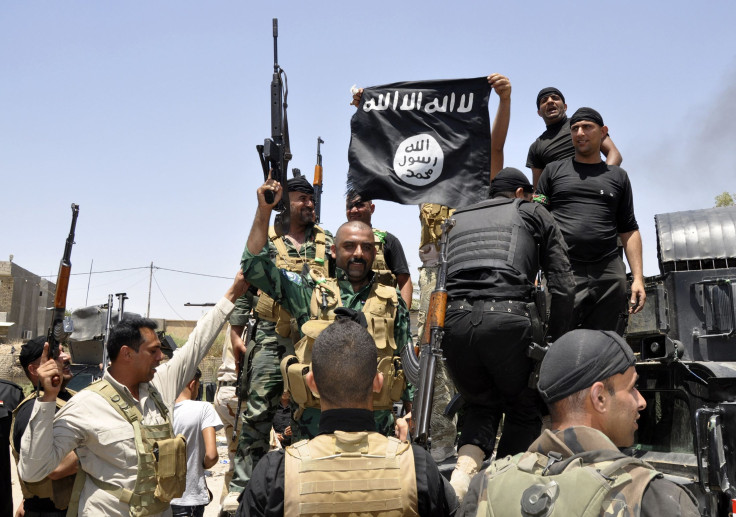 Islamic State isn't about to take President Obama's airstrikes quietly. The Sunni militant group, formerly known as Islamic State in Iraq and Syria (ISIS), on Friday called for sleeper-cell attacks on U.S. interests worldwide through its social media accounts, after the president authorized targeted airstrikes in Iraq.
Islamic State has already seized several towns in Iraq, forcing thousands of religious minorities to flee their homes. Most recently, the group announced it would kill all members of the Yazidi religious minority in the northern Iraq town of Sinjar and seized the largest Christian town of Qaraqosh. Thousands have fled their homes and taken refuge in the Iraqi mountains without access to food, water or shelter.
Following Obama's announcement, Islamic State-affiliated social media began calling for attacks on U.S. interests. Many of the group's affiliated accounts began sharing photos threatening U.S. troops and the U.S. embassy in Erbil. Some posts even called for sleeper-cell attacks in the West, according to the SITE jihadist threat monitoring service.
The following explains what Islamic State's call for attacks means.
First, what is a sleeper cell?
Sleeper cells are loosely organized, underground groups of terrorists who await in place in specific locations around the world. Members of a sleeper cell are trained and ready to act at their leaders command. They are the jihadi version of reservist soldiers and a big part of how terror organizations like al-Qaeda and ISIS operate.
Usually, members of a sleeper cell lead normal lives in their host country, with legitimate jobs, homes and families. Many work alone or in small groups and bear no obvious connection to other cells or networks, which helps ensure they remain under the radar. This type of organization also ensures that "a single strike does not lead to the compromise of the entire network, with only those individuals with direct linkages and knowledge being at risk," according to research published by the School of Advanced Military Studies United States Army Command and General Staff College.
Could there really be an Islamic State jihadi next door, so to speak?
While possible, it's not likely.
"Even if it wanted to, the organization [Islamic State] does not appear to have the sorts of skilled operators who can conduct operations inside the United States or Europe," concluded an analysis published in July by Stratfor, a global intelligence group.
While that may be true, Islamic State's very effective social media campaigns and recruitment strategies have been successful in inspiring foreign fighters to join. About 100 Americans have gone to Syria and joined Islamic State, according to Seth Jones at the RAND corporation. Last month Fox News published an article stating that the current border crisis could leave gaps in security enabling the group to sneak in sleeper cells. That would mean sneaking in only a handful of people at a time, which, according to Statfor, is a legitimate possibility. "Perhaps the greatest threat from the Islamic State is that it will send or inspire a foreign grassroots jihadist… to conduct a small attack."
Since September 11, terrorist organizations -- al-Qaeda, specifically -- have been known to ask their followers to conduct several small attacks rather than spend time planning one large attack.
Do we know of any Islamic State sleeper cells that already exist?
Reports of a "Zero Hour" attack from an IS sleeper cell in Baghdad came early in July. An Iraqi security official told Reuters that there were at least 1,500 members of a sleeper cell in Baghdad who were prepared to infiltrate the U.S.-run Green Zone at any time.
What do they mean by threats to "U.S. interests"?
A common theme among jihadi threats and attacks, especially when it comes to al-Qaeda, has been to attack the U.S. in a way that could have a domino effect, with the ultimate goal being to take down the entire American system. One way to do this would be by undermining the economy, which was the goal of the September 11 attacks. The planes took down one of the icons of the American economy: the World Trade Center towers.
Most U.S. interests that IS could attack are not in the U.S., however. "We face an enduring threat to US interests overseas," the 2014 Worldwide Threat Assessment of the US Intelligence Community concluded. "Most Sunni extremist groups will prioritize local and regional agendas, but US embassies, military facilities, and individuals will be at particular risk in parts of South Asia, the Middle East, and Africa."
© Copyright IBTimes 2023. All rights reserved.
FOLLOW MORE IBT NEWS ON THE BELOW CHANNELS