ISIS Allegedly Uses Chemical Weapons In Syria Attack: Report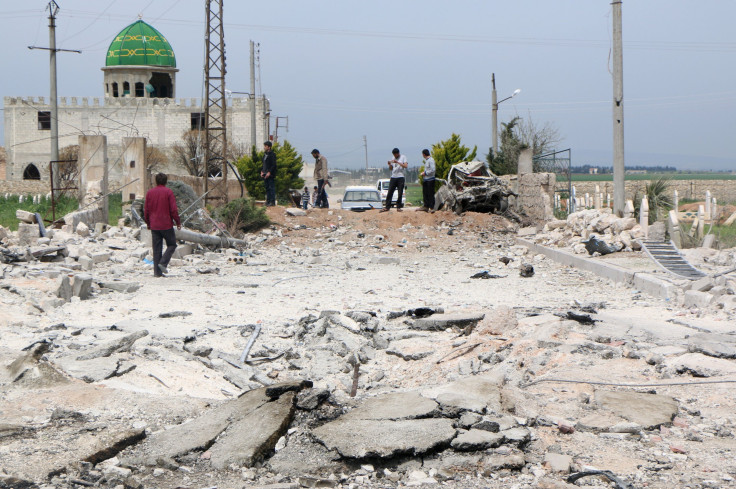 The Islamic State group was accused of using chemical weapons during an attack in Syria late Friday. ISIS fighters allegedly used a chemical agent in the battle near the besieged city of Aleppo, killing one person and wounding at least 10 others, the Wall Street Journal reported Sunday.
The Islamic State group, also known as ISIS or ISIL, descended on the northern town of Marea Friday night, about 15 miles from Aleppo. The militants shelled more than 50 rounds of artillery within two hours, some of which contained a chemical agent, local residents and opposition rebels told the Wall Street Journal. It's the first time ISIS has been accused of using a chemical agent in an attack in Syria.
The victims' injuries initially appeared to be conventional shrapnel wounds, but many developed symptoms consistent with those of chemical warfare. Staff at the local hospital in Marea smelled a foul odor coming from the victims' wounds. Hours after the attack, some patients, including a family with young children, had difficulty breathing, diarrhea, red skin patches and red, watery eyes. Some of the most severe cases had developed large, red, pus-filled bumps all over their bodies by Saturday, and several patients were transferred to a hospital in neighboring Turkey. It was unclear whether the man who was killed in Friday night's attack died from shrapnel or the alleged chemical agent, a nurse at the Marea hospital told Wall Street Journal.
The claims came after the United States said the Islamic State group used mustard gas against Kurdish troops in northern Iraq last week. Following a mortar attack in the town of Makhmour on Aug. 11, about 60 Kurdish fighters reported symptoms consistent with a chemical attack. The soldiers provided the U.S. military with fragments of shells from the attack that later tested positive for the presence of "HD, or what is known as sulfur mustard," Marine Corps Brig. Gen. Kenvin J. Killea, chief of staff for Combined Joint Task Force-Operation Inherent Resolve, told Military Times Friday.
The attacks have raised fears that ISIS militants have seized mustard gas in Iraq and Syria, where both governments have maintained stockpiles of the banned chemical weapon. Killea said that the test results from the Aug. 11 battle were not yet conclusive, but the potential confirmation would not change U.S. policy on fighting the Islamic State group.
"We really don't need another reason to hunt down ISIL and kill them wherever we can and whenever we can," Killea told Military Times. "Any indication of the use of a chemical warfare agent, purely from our perspective, reinforces our position that this is an abhorrent group that will kill indiscriminately without any moral or legal code or restraint."
© Copyright IBTimes 2023. All rights reserved.