ISIS Arrest In Erbil: 6 Islamic State-Linked Members Planned Attacks In Iraq, Kurds Say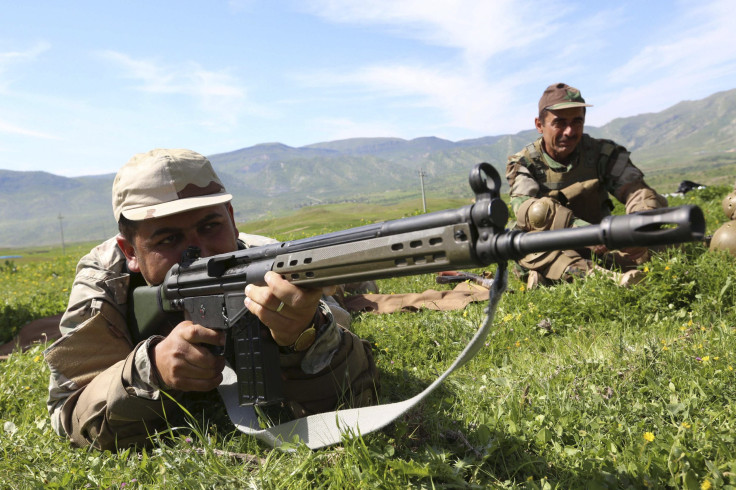 Kurdish authorities arrested six people in northern Iraq they claimed were part of a terror cell closely aligned with the Islamic State group, the security council for the autonomous region said Monday, according to Kurdish media outlet NRT. The six people arrested were believed to have been planning attacks in Erbil, where they were detained and where authorities seized 18 explosive devices.
Hemin Hawrami, a Kurdish politician, tweeted photos of four of the suspects:
The Islamic State group, also known as ISIS or ISIL, and Kurdish peshmerga forces have been engaged in battles around Erbil, the Kurdish capital in northern Iraq where Kurds have autonomy from the Iraqi government. ISIS has a base south of the city. Attacks have been occurring in the area on a near-weekly basis. On Friday, the peshmerga attacked ISIS after fighters with the Islamic State group shelled Kurdish forces for days, Kurdish media outlet Rudaw reported on Friday.
"We have been attacking Daesh positions since early in the morning. They have made some counter-attacks as well," said peshmerga commander Jabar Baker Surchi, who used an alternative name for the Islamic State group. "As a result of the Peshmerga assaults on their positions we are monitoring the extremists' movements in Kanash village. Their cars are moving around and it seems they have large number of casualties."
Late last month, Kurdish forces said they killed the mastermind behind an April 17 suicide car bombing that killed two Turkish citizens near the U.S. consulate in Ainkawa, according to Rudaw. Alaw Paer Ahmad Al-Azawi, whom also went by Abu Qasim, was identified as the high-ranking ISIS member killed in an airstrike April 28. He also planned a car bombing on the offices of the governor of Erbil last November, the Kurdistan Regional Security Council told Rudaw.
"He also had a hand in many other terrorist attacks, especially inside Kirkuk" in northern Iraq, the council said in a statement.
© Copyright IBTimes 2023. All rights reserved.