ISIS Attacks Baghdad: Islamic State Moves Toward Iraqi Capital, Ramadi Imposes Curfew Amid US Airstrikes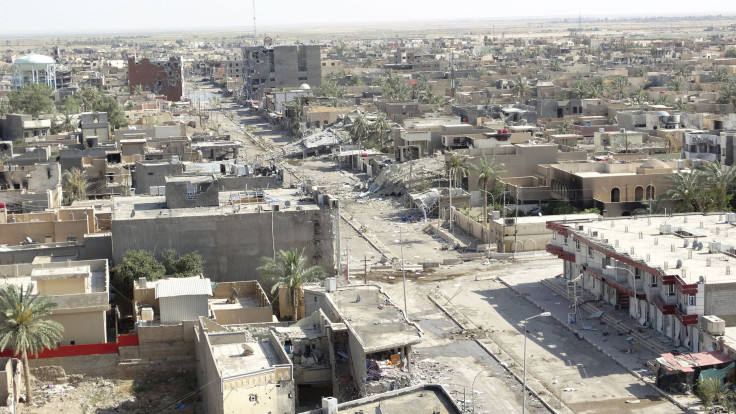 As Islamic State forces press on toward Baghdad, the Iraqi government enacted a curfew Friday in Ramadi, fearing the militant group's advances on the strategic city, a pan-Arab daily newspaper reported. Despite continuing U.S.-led airstrikes, the Islamic State has successfully surrounded Ramadi while also detonating numerous car and suicide bombs in Baghdad since Sunday, killing at least 150 people, the Guardian reported Friday.
Ramadi is the capital of the vast province of Anbar — of which the Islamic State group currently controls about 80 percent — and is located approximately 70 miles west of Baghdad. The Islamic State has been besieging Ramadi since the summer. The militant group also known as ISIS breached the city from the west and on Wednesday encroached from the north and south, said Taha Abdul Ghani, a member of the Anbar provincial council, as reported in the New York Times. "Unfortunately, the military has become a source of assistance for ISIS, because, for the most part, ISIS is able to attack and defeat the military, taking control of their arms and equipment," Anbar Tribal Council member Faris Ibrahim told the pan-Arab paper, Asharq Al-Awsat.
Locals report so-called Islamic State members raising black flags over government buildings and moving freely around the embattled city of Hit, 43 miles northwest of Ramadi, according to a report from the Institute for the Study of War. Last week, ISIS-affiliated social media accounts detailed the group's operation near Ramadi, showing several destroyed army vehicles, seized ammunition and graphic photos of dead and dismembered soldiers.
"Everybody knows that Anbar is the main incubator of ISIS, and it is expanding to Iraq's other regions from here," Ibrahim told Asharq Al-Awsat. "Therefore, ignoring Anbar has led to disaster, as we are seeing today."
Iraqi Prime Minister Haider Al-Abadi urged Anbar's tribes to work with Iraqi security forces against Islamic State militants. Sunni tribes are key in the fight against the extremist group, and Ramadi has yet to fall in part because the tribes in the city have not allowed it to, according to Asharq Al-Awsat.
Earlier this week, a car bomb exploded in eastern Baghdad that killed three and wounded 21. A homemade bomb blew up in the popular Mredi market in a suburban district of Baghdad, killing eight and wounding 25. A suicide car bomb detonated in Aden Square in northern Baghdad that killed 22 and injured 41. Another one detonated the following day in the same area, killing 24 and wounding 54, including Shiite parliament member Ahmed al-Khafaji, according to the Institute for the Study of War.
© Copyright IBTimes 2023. All rights reserved.
FOLLOW MORE IBT NEWS ON THE BELOW CHANNELS