ISIS Destroys At Least Six Border Control Stations On Jordan-Iraq Border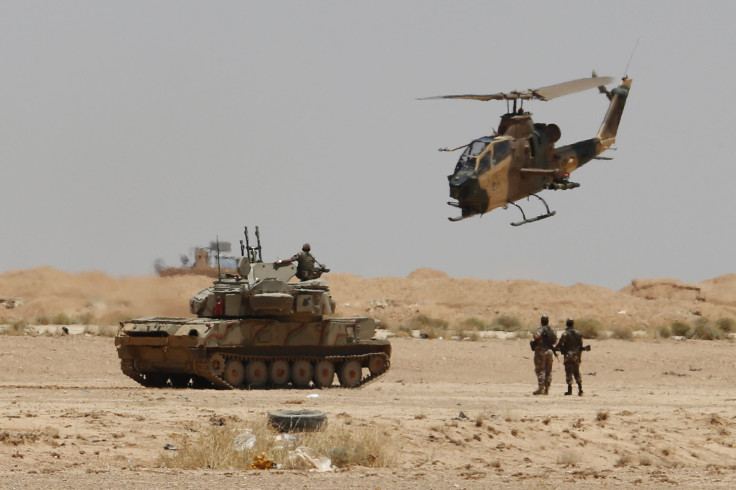 Islamic State group militants gained a foothold on the Jordan-Iraq border Tuesday when they destroyed at least six Jordanian border control posts, according to reports from Jordanian activists and Islamic fighters associated with the Islamic State, also known as ISIS. The attacks, which Jordan's army has yet to confirm, marked the first time since June the Sunni militant group tried to enter Jordan from Iraq.
ISIS fighters originally took control of a border post on the Iraqi side of the Jordanian border in June, just a few weeks after the Islamic State group seized Mosul, Iraq's second-largest city. ISIS then advanced on the border post within Jordan, called Trebil, the New York Times reported. Also in June, Jordan passed a controversial counterterrorism law giving authorities new powers to imprison "citizens who lend ideological and recruitment support to terrorist organizations."
The Jordanian army has yet to confirm Tuesday's attacks by Iraqi-based ISIS militants.
According to a report published by the Carnegie Endowment For International Peace last week, Jordan has taken several measures to stave off ISIS, including beefing up border security, arresting potential supporters of terrorism and tightening control over mosques. So far, though, those measures have not stopped the Sunni militants from trying to enter the country.
Those attempts come from both Iraq and Syria. On Monday the Jordan Times reported a Jordanian border patrol experienced difficulty when it tried to stop an "infiltration attempt by three Arab nationals from Syria." A Jordan Armed Forces spokesperson, Col. Mamdoh al-Ameri, said three people were injured during the infiltration attempt and border guards arrested two of them. The report from the Jordan Times said the border crossings have experienced several "infiltration attempts." Earlier this month, the border guards stopped five people from entering Jordan from Syria. The news report did not indicate if those people attempting to cross from Syria were affiliated with ISIS.
The International Business Times reported in September that the Sunni militant group may have infiltrated Jordan through its eastern border. David Schenker of the Washington Institute on Near East Policy published a report late Wednesday that said militant Islamists continue to "challenge the kingdom's stability."
According to the report, over the past several months, the Jordan Armed Forces have prevented "several" cross-border infiltration attempts by armed groups from Syria.
"The popularity of ISIS appears to have grown as well in light of the group's gains in Syria and Iraq," the report said.
It is unclear if supporters of ISIS in Jordan have formed legitimate battalions with leaders, though some have speculated that the ISIS movement in Jordan was motivated by Salafists Abu Muhammad al-Maqdisi and Abu Qatada.
According to Saudi media, Jordan has given some NATO members intelligence that describes a growing ISIS threat in the country.
Jordan is not a member of NATO but is considered a major NATO ally. For months, the U.S. has been using Jordan as a base for training vetted moderate opposition troops. The U.S. also relies on Jordan for intelligence and for its participation in coalition airstrikes against ISIS in Iraq and Syria.
© Copyright IBTimes 2023. All rights reserved.