ISIS Gaining Strength, Warns Iraqi VP Ayad Allawi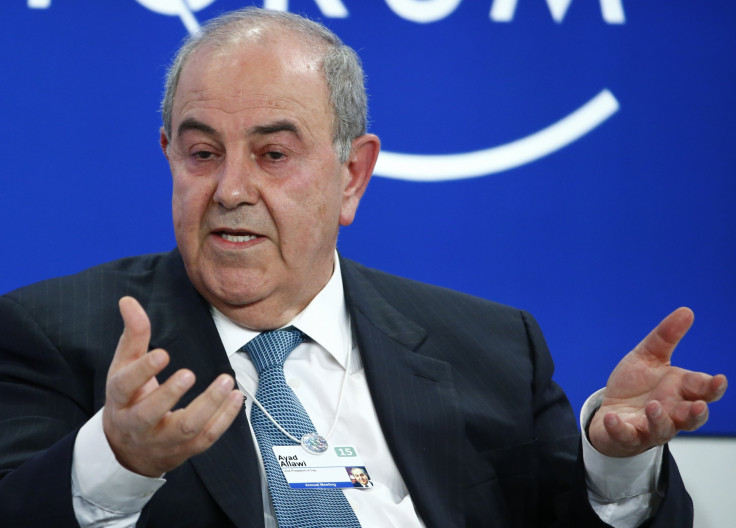 DAVOS, Switzerland -- Iraq's vice president sharply dismissed reports that U.S.-led coalition forces have weakened the Islamic State group, sounding an alarm that -- absent a better-coordinated campaign -- the extremists pose a rising threat throughout the Islamic world and beyond.
"ISIS is getting stronger," Iraqi Vice President Ayad Allawi said here Thursday evening during a panel discussion at the World Economic Forum. "It's not true that they have lost control in Syria and are losing control in Iraq. Let us face the facts as they are."
Far from a threat to Iraq and Syria alone, ISIS is "now rising in Libya because there's a breakdown in law and order," Allawi said, describing Yemen and Lebanon in similar terms. He noted ISIS links to attacks in Europe. "We have seen what happened in France, and it is powered by ISIS," he said.
Allawi's warning came as part of a plea for greater cooperation among Arab countries in the fight against ISIS, an effort he described as currently chaotic and uncoordinated.
"Without really an effort to get things moving with a structured strategy, not only in Iraq and Syria, but globally, then it will not work. We will not control ISIS," he said. "Without this, the region is going to be exploding more than it is now, and the whole region will be engulfed by the fire."
The Iraqi vice president's bleak assessment presented a stark contrast to President Barack Obama's depiction in his State of the Union address two days earlier.
"In Iraq and Syria, American leadership  --  including our military power --  is stopping ISIL's advance," Obama said, using an alternate term for ISIS. "Instead of getting dragged into another ground war in the Middle East, we are leading a broad coalition, including Arab nations, to degrade and ultimately destroy this terrorist group. We're also supporting a moderate opposition in Syria that can help us in this effort, and assisting people everywhere who stand up to the bankrupt ideology of violent extremism. This effort will take time. It will require focus. But we will succeed."
On Thursday, the U.S. ambassador to Iraq, Stuart Jones, detailed additional gains in an interview with the Dubai-based Al Arabiya News Channel. "The airstrikes have now killed more than 6,000 ISIS fighters in Syria and Iraq," Jones said, while destroying more than 1,000 ISIS vehicles.
Here in Davos, Allawi's gloomy description provoked a plea for greater regional cooperation from Prince Turki al-Faisal al-Saud, a member of the royal family, former head of Saudi intelligence and a former Saudi ambassador to the United States.
In Syria, Turki noted, the coalition fighting ISIS includes Saudi Arabia and much of the rest of the Arab world along with the United States, Canada and other Western allies. Yet in Iraq, the coalition is far more limited, with the United States and Western allies such as France and the United Kingdom operating without Arab participation.
"You can't fight a battle with such an improperly organized campaign," Turki said. "The current Iraqi government doesn't want Arab involvement in Iraq. They want Iran, but not Arabs."
That lament underscored a singular feature of the Iraq and Syria conflicts, one experts say has long fueled the war's intensity while constraining solutions: The fight has played out as a proxy war waged by bitter regional adversaries. Iraq, under a government dominated since the U.S. invasion of 2003 by Shiite Muslims, has drawn support from fellow Shiites in Iran, Saudi Arabia's archenemy. Iran has also lent backing to the Syrian regime of Bashar Assad, while Turkey and the United States have aided Syrian rebels seeking to end his rule.
In a clear manifestation of the degree to which deep-seated rivalries are impeding collective action against ISIS, Allawi said the Baghdad government is not sharing intelligence with its Saudi counterparts -- or any other Arab government, for that matter.
"There is no sharing of intelligence within the Arab countries as yet," Allawi said in response to a question from International Business Times. "There is no will to pool the information."
Allawi elaborated on that in an interview with IBTimes following the panel. "There's a rift between the Arabs," he said. "There is no trust. The intelligence is undermined by distrust. Really, the whole region is not equipped to handle sharing."
The debate here in the snow-covered Alps of Switzerland underscored a central critique of the anti-ISIS campaign playing out on the desert landscape of the Middle East: Regional enmities are preventing coordination, offering ISIS a valuable opportunity to expand and gain recruits as foreign fighters trickle in to support its cause.
In an effort to buttress the coalition, foreign ministers from 22 countries met in London on Thursday to strategize. U.S. Secretary of State John Kerry was in attendance along with British Foreign Secretary Philip Hammond and representatives from Australia, Canada, France, Germany, Bahrain, Turkey and Egypt, among other nations.
Allawi suggested a need for a regional conference, including Iran, Saudi Arabia, Syria and Egypt. He and his counterparts ought to "sit down and look everyone in the face and say what is right and what is wrong," he said.
But while talk about talks continues in conference rooms, on the battlefield the conflict rages on.
Over the last six months, ISIS has seized small towns and larger cities in both Iraq and Syria, Kurdish fighters in both countries and Syrian rebels have told IBTimes. The Sunni militant group now controls almost one-third of Syria and occupies territory on the outskirts of the Iraqi capital along with the major city of Mosul.
Despite dozens of coalition airstrikes on ISIS convoys in the northern Syrian city of Kobani, the extremist group remains in control of large portions of the city and has successfully fended off so-called peshmerga fighters -- the Kurdish army.
Despite brutal tactics that include beheadings, ISIS has gained support among Sunnis living in both countries. It has implemented social programs such as trash pickup services while providing food for impoverished residents.
With this dynamic in mind, much of Thursday's discussion focused on a need to undercut Sunni grievances nurtured in the atmosphere of repression created by Iraq's previous government, headed by Nouri al-Maliki. He drew international condemnation for policies that blatantly favored his fellow Shiites at the expense of other groups, not least Sunnis.
"We must attack the sectarianism which has been exacerbated by the past government in Baghdad," said Canadian Foreign Minister John Baird. "The barbaric evil that we are fighting demands a unity of purpose."
Erin Banco reported from New York.
FOR FREE to continue reading
✔️ Unlock the full content of International Business Times UK for free
offer available for a limited time only
✔️ Easily manage your Newsletters subscriptions and save your favourite articles
✔️ No payment method required
Already have an account?
Log in
© Copyright IBTimes 2023. All rights reserved.