ISIS In Iraq: Fight To Retake Mosul From Islamic State Moves Forward As Iraqi Forces Seize Villages In Haj Ali Area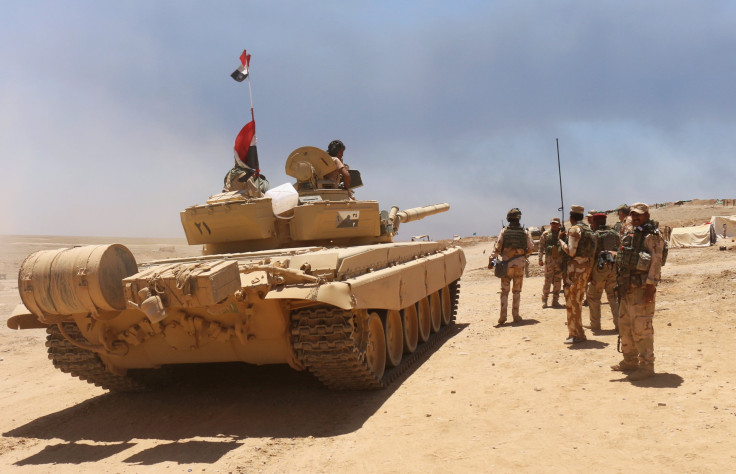 Iraqi forces have retaken a cluster of northern villages from Islamic State militants, the government said on Tuesday, pushing closer to an air base that could serve as a springboard for an offensive to retake Mosul, the biggest city held by ISIS.
Backed by air strikes from a U.S.-led coalition, government troops launched their thrust up the eastern side of the Tigris river from the Makhmour military base in March, but tough ISIS resistance and rough terrain have slowed their advance.
Government forces have now seized all villages in the Haj Ali area and reached the eastern bank of the Tigris, around 60 km (40 miles) south of Mosul, the Defense Ministry said in a statement on Tuesday.
An army brigadier involved in the operations to retake Qayara air base on the Tigris's western side said Iraqi forces had dislodged militants from seven Haj Ali villages on Monday evening after Islamic State fled in boats or by swimming away.
"Our sources inside the villages told us Daesh fighters started to flee the villages in large numbers on Monday," the officer said, using an Arabic acronym for Islamic State. "The troops' objective now is to hold their positions on the river bank and wait for other forces advancing from the south to close in on Daesh fighters and take control of Qayara air base."
U.S. Led Coalition Airstrikes Against ISIS | InsideGov
Elite counter-terrorism forces and two army divisions, also bolstered by U.S.-led air strikes, advanced last month from a northern refinery town towards the Qayara airfield, seen as key for a move to recapture Mosul, Iraq's second largest city.
Two years since IS seized wide swathes of northern and western Iraq in a stunning offensive, the tide has begun to turn as an array of forces lined up against the militants have made inroads into their proclaimed "caliphate". Prime Minister Haider al-Abadi has pledged to retake Mosul by the end of this year.
The military's recapture of Falluja, an hour's drive west of the capital Baghdad, last month lent fresh momentum to the campaign to recover Mosul, the largest urban center in Iraq or neighboring Syria under Islamic State control.
© Copyright IBTimes 2022. All rights reserved.
FOLLOW MORE IBT NEWS ON THE BELOW CHANNELS