ISIS Militants Attack Iraqi Provincial Capital Ramadi, Residents Urged To Fight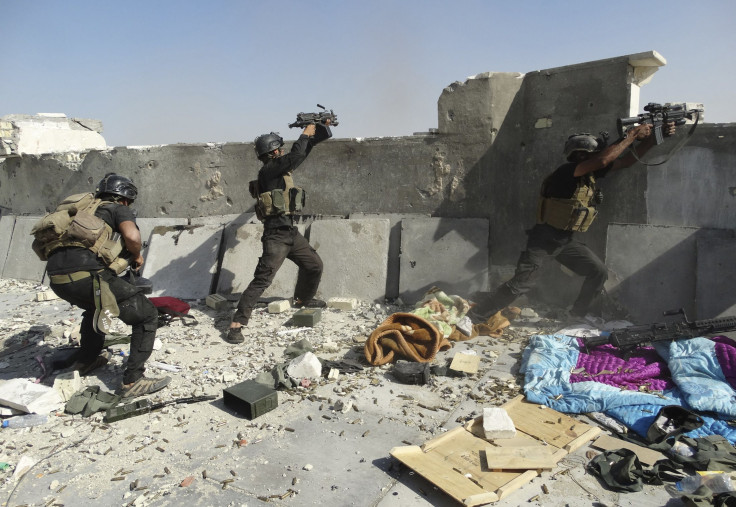 Islamic State group militants launched several coordinated attacks in Ramadi, the capital of Iraq's Anbar province, Friday, just as an atypical thunderstorm hit the city. ISIS fighters sprayed bullets from the top of government buildings, detonated car bombs and fired an onslaught of mortar rounds as militants allegedly shouted "Takbir" (God is great) from mosque loudspeakers, according to various reports from the ground.
"IS launched a surprise attack from four directions -- north, west, east and south of Ramadi," a law enforcement official in Ramadi told Agence France-Presse. Ramadi, which is the capital of a Sunni-majority province, is being defended by Shiite militias. Its fall would put in the hands of ISIS a key city just 130 kilometers (70 miles) from Baghdad.
The onslaught was an attempt to seize the city of Ramadi and consolidate the militants' already solid hold in the largely Sunni province. ISIS already controlled large sections of the city, but Friday's attack would have given them the entire capital and been a major setback to Iraqi security forces, Reuters reported. The city has not yet fallen to the militants, and local officials told Reuters that remaining Ramadi residents were urged not to flee.
"Mosques are asking anyone who can carry weapons to confront the attackers," Anbar council member Hathal al-Fahdawi told Reuters. Al-Fahdawi added that militants had also seized the nearby village of Al Shujairiya and fighting there had not ceased.
Ramadi is surrounded by ISIS-controlled territory, including the province's second most important city, Fallujah. Anbar is Iraq's largest province and shares a border with Saudi Arabia, Jordan, and Syria. U.S. airstrikes, the Iraqi army, Shiite militias and some Sunni tribal forces have been fighting off militants in Anbar but have not been very successful. In Ramadi, officials have asked for civilian reinforcements. "The security forces need support because we have not received any back-up from the army's air force or the coalition," al-Fahdawi told AFP.
The militants began a double-barreled operation toward Ramadi on Wednesday, according to the Institute for the Study of War. Fighters advanced from Tamim, west of Ramadi, and from tribal areas of Huz and Girtan.
The attack was "the deadliest of its kind" in Ramadi this year, Maj. Gen. Mohammed Kazem Fahdawi told the Anadolu Agency. Casualty numbers have not yet been reported.
© Copyright IBTimes 2023. All rights reserved.