ISIS Propaganda Chief Ibrahim Al-Ansari Killed In US Airstrike: Hunt On For Baghdadi, The Elusive Big Prize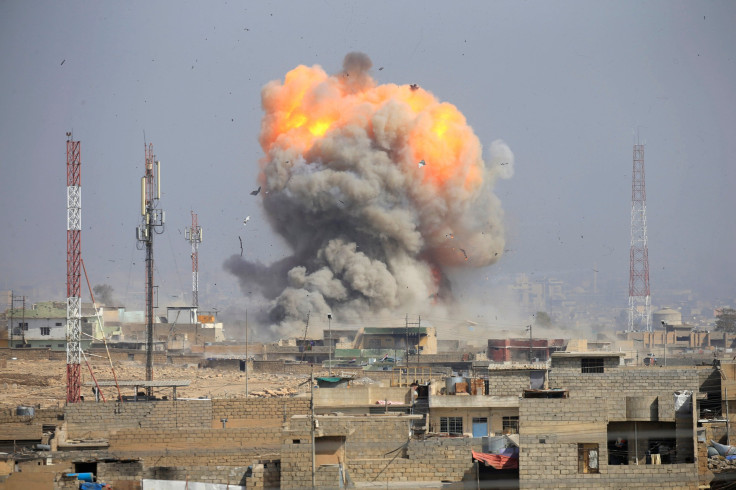 The U.S.-led coalition fighting the Islamic State group said Thursday that it killed ISIS propaganda chief, Ibrahim Al-Ansari, along with his four associates in an airstrike in al Qaim, an Iraqi town located nearly 250 miles northwest of Baghdad near the Syrian border. Ansari was an "important ISIS leader," said Col. Joseph Scrocca, a spokesman for the Baghdad-based coalition, according to Arab News.
The airstrike took place on March 25, Scrocca said. The strike also destroyed a multimedia operation team, another Defense Department official said, on condition of anonymity. The propaganda of Ansari and those who were killed included "brainwashing of young children to perpetuate ISIS brutal methods," the source said, Arab News reported.
Read: ISIS Leader Escapes Mosul, US And Iraqi Army Reports
Ansari's "propaganda encouraged ISIS followers to conduct knife attacks, vehicle attacks and arson attacks against American and other Western citizens," Scrocca said, according to CBC News. "This strike will disrupt ISIS's ability to create propaganda — propaganda to [incite] terror into the region as well as in our homeland, and has struck communications between other ISIS members."
Even as U.S.-led special forces and planes, along with Iraqi forces and local Syria militia groups succeed in recapturing ISIS' remaining strongholds in Iraq and Syria, the tracking of the extremist group's leader is still a major question.
Reports had surfaced earlier this month that Baghdadi had fled Mosul, Iraq, and has been cut off from day-to-day command of his fighters. But what still worries the U.S. forces is whether Baghdadi will repeat what the late al Qaeda leader Osama Bin Laden had done -- hide out for years even after his group's last known strongholds had fallen.
Speculations are rife whether the ISIS leader will be able to function alone with major leaders of his group gradually being killed. "Nearly all of Abu Bakr Al Baghdadi's deputies are now dead, including the mastermind behind the attacks in Brussels, Paris and elsewhere," Secretary of State Rex Tillerson told the ministers from the 68-nation U.S.-led coalition on March 22, according to Gulf News.
Iraqi Prime Minister Haider al-Abadi told a television channel last month that Baghdadi has few trusted aides left with so many senior leaders killed in coalition airstrikes. "He's almost alone at the moment. He doesn't have many people to trust. He is in isolation, we're monitoring his movements," Abadi said, according to the Telegraph.
Meanwhile, Lt. Gen. Abdel Amir Yarallah, the commander of operations of the Mosul offensive — "We are Coming, Nineveh" — that began October last year, said last week that Baghdadi is likely to be hiding at al-Jazeera area, close to the Syrian borders, according to Iraqi News.
© Copyright IBTimes 2023. All rights reserved.
FOLLOW MORE IBT NEWS ON THE BELOW CHANNELS