ISIS Recruits: Majority Of Islamic State Only Has 'Basic' Knowledge Of Islam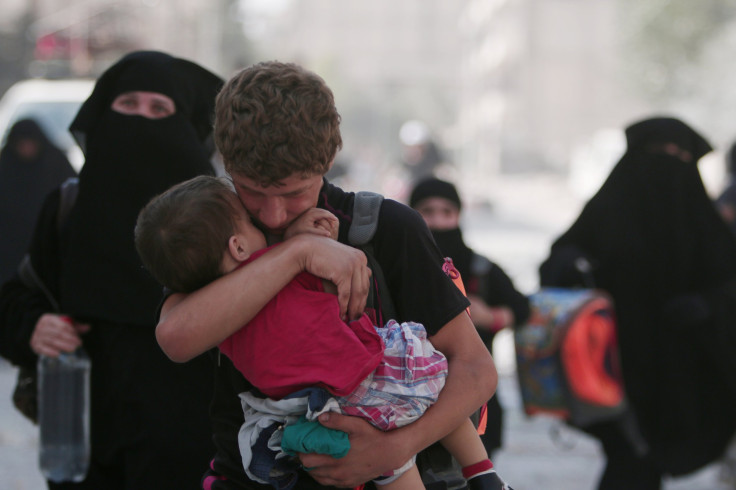 As the Islamic State group continues to lose ground in Syria and Iraq, new details about its recruits and their knowledge of Islam emerged late Sunday. Those interested in joining the group also known as ISIS were asked to rank their knowledge of the Islamic faith on a scale of one to three, with many of the recruits proving to be unfamiliar with detailed aspects of the religion, an investigation by the Associated Press found.
Recruits ordered books including "The Koran for Dummies" before joining the group and were kept in safe houses with imams who extolled the virtues of martyrdom indoctrinated them. Documents examined by the AP showed recruits were judged based on their knowledge of Shariah — Islamic law that is based on interpretations of religious texts, and hadiths, the sayings and actions of Prophet Muhammad.
Seventy percent of recruits in 2013 and 2014 were ranked as having only a "basic" knowledge of Sharia and 24 percent were judged to have "intermediate" knowledge, according to the documents shared with the AP by the Syrian opposition website Zaman al-Wasl that had information on more than 4,000 recruits who crossed into Syria. Only five percent of recruits were considered to show an advanced knowledge of Islam.
As governments around the globe look to fight ISIS's strong social media presence and recruiting tactics, the new data suggests the group preys on recruits who do not have a deep understanding of the Islamic faith. The documents showed an ISIS recruiter who worked in France went bar hopping with potential members in order to grow close to them.
The number of ISIS fighters in Iraq and Syria has dropped to its lowest numbers in two years , the U.S. government said in June, estimating the number of fighters in Syria and Iraq at between 18,000 to 22,000, down from as many as 31,500 in 2014. There are an estimated 5,000 ISIS fighters in Libya and 1,000 in Egypt. Studies estimate as many as 4,000 ISIS fighters were recruited from Western Europe.
"People like me were tricked into something that they didn't understand," a recruit who spoke to the AP under conditions of anonymity said. "I never meant to end up with IS."
In recent days, ISIS has lost its total grip on its Libyan stronghold of Sirte. Despite losing ground in Syria, Iraq and Libya, the group continues to carry out attacks. ISIS claimed responsibility for a suicide bombing Sunday that killed 50 people near the Syrian border with Turkey, Reuters reported.
© Copyright IBTimes 2022. All rights reserved.
FOLLOW MORE IBT NEWS ON THE BELOW CHANNELS