ISIS Shoots Down American Plane? Pentagon Denies A-10 Aircraft Shot By Islamic State Group In Syria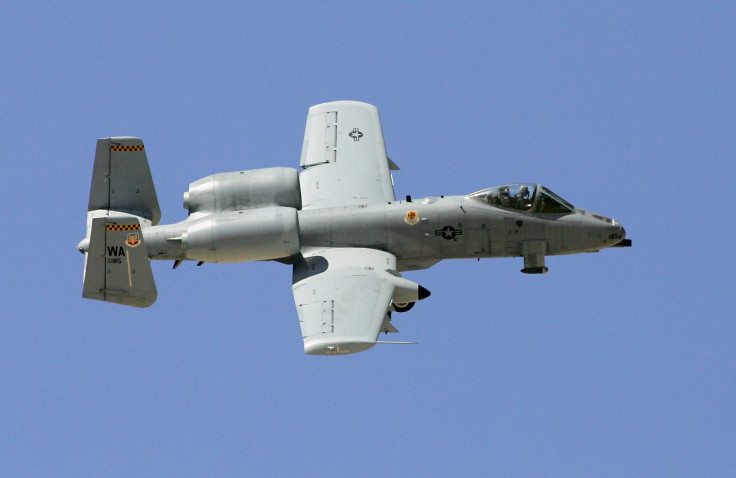 The Pentagon is reportedly denying the Islamic State group's claim it shot down a U.S. A-10 Thunderbolt jet aircraft near a Syrian town Thursday morning, according to Reuters. The news comes as Iraqi security forces battle ISIS in Mosul with help from the United States.
A Pentagon spokesperson also said all aircraft are accounted for.
The initial report, coming from ISIS communications arm Aamaq Agency, stated the terror group claimed to have downed the powerful jet in Markadah, located 102 kilometers (63.3 miles) south of the town of Al Hasakah, Syria.
The report also stressed the fate of the alleged pilot's fate was not known as the U.S. helps Kurdish militias fight ISIS in northern Syria.
The A-10 Thunderbolt, produced by defense contractor Fairchild Aircraft, is manned by one pilot and is known for its efficient capabilities to take out smaller targets on the ground. General Herbert Carlisle, chief of the Air Force's Air Combat Command, praised the A-10 and their pilots in an interview with Popular Mechanics last year.
"I have A-10s and I will use them, because they're fantastic airplanes," Carlisle said. "Their guys are incredibly well-trained and they do fantastic work in support of the joint warfight."
ISIS has made false claims of killing U.S. serviceman or downing U.S. aircraft before.
Last month, it claimed to have killed a U.S. soldier near the war-torn and heavily bombed Syrian city Aleppo, which the Pentagon later debunked. The soldier was allegedly killed near the town of Manbij, roughly 58 miles away from Aleppo, along with nine members of Kurdistan Workers Party, or PKK, Syrian forces fighting against ISIS.
Also, in July, ISIS said it had downed a U.S. warplane resulting in the death of all personnel aboard near Iraq's Anbar province, which was also dubbed untrue by the Pentagon.
Reports Thursday suggest the Battle of Mosul, led by Iraqi forces with the help of the U.S., was actually ahead of schedule as it tries to drive ISIS out of one of its remaining strongholds. The latest offensive has reportedly resulted in the retaking of the Christian town of Bartella, and the death of 200 ISIS militants and the destruction of nine trucks covered in explosives, according to CNN.
© Copyright IBTimes 2023. All rights reserved.