ISIS Shoots Down Coalition Aircraft Over Syria, Claims To Have Captured Jordanian Pilot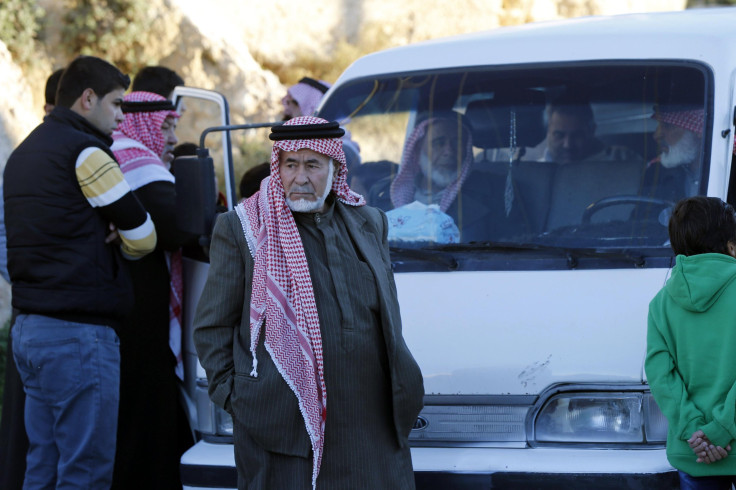 The Jordanian military confirmed Wednesday that one if its warplanes had been shot down over Raqqa, northern Syria, in the territory of the Islamic State group's self-proclaimed caliphate. This is the first time an aircraft with the U.S.-led coalition conducting airstrikes on the group also known as ISIS is shot down.
Social media accounts linked to ISIS showed photos of the cockpit canopy of an F-16 jet being paraded through the streets of Raqqa, as well as the contrail of a ground-to-air missile which they claimed was an Igla-S, a Russian-made heat-seeking missile capable of taking down fast jet fighters. The presence of Igla-S launchers has been documented in Syria; rebels are known to have used it effectively, possibly after capturing from president Bashar al Assad's forces.
The news of the shootdown first appeeared in a statement released by the Syrian Observatory for Human Rights.
"We have confirmed reports that IS members took a (non-Syrian) Arab pilot prisoner after shooting his plane down with an anti-aircraft missile near Raqqa city," the Observatory said. Raqqa is the headquarters of the militant group's self-proclaimed caliphate.
A number of photos showing a man -- believed to be the pilot -- wearing only a white shirt, being carried by four men, surfaced online soon after reports of the plane crash. ISIS-linked social media accounts published a photo of the pilot's military ID card, according to which he is Lieutenant Maaz al Kassasbeh. Jordan asked ISIS, in the statement admitting to the shootdown, to return him alive.
The Jordanian Air Force has been taking part since September in the airstrike campaign against Islamic State targets, using American-made F-16 jets. The airplane's downing proves that ISIS has the ability to use anti-aircraft weapons, which may complicate the U.S.-led coalition's efforts, forcing planes to operate at higher altitudes. The Observatory, which has sources inside Syria, said the missile used had been taken from Syrian rebels.
The Islamic State group is known for its brutal treatment of prisoners and dissidents and has, in the past, released videos showing executions of opposition fighters. Social media accounts linked to the group say the downed officer was taken to a secret location, after being paraded in Raqqa in a cage.
© Copyright IBTimes 2023. All rights reserved.